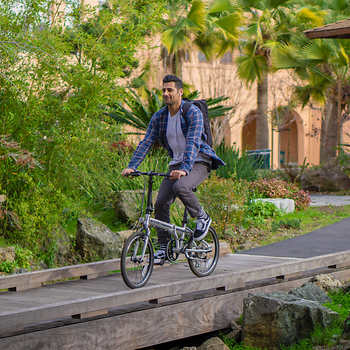 Zizzo Liberte Folding Bike
Product details have been supplied by the Manufacturer, and are hosted by a third party.

Merging Europe's cycling everywhere, all-the-time culture with America's fun loving and recreational life-style. We created the Zizzo brand of bicycles to help make cycling easy and accessible to anyone and everyone.
ZiZZOLING FUN: Recreational fun, Get-around fun, exercise fun, commuting fun, healthy fun, pollution-free fun, and fun for the whole family.
Lightweight & Compact folded size
Weighing only 23 lbs the Liberté was designed to quickly fold into a compact size, made to easily fit in a trunk of a car, pack up and take on public transportation, or easily fold and placed under your desk or in a closet.
Stylish Design and paint scheme
The Liberté is painted over a raw aluminum frame then clear coated. The Black over aluminum frame stands out attractively with modern appeal.
Full adjustability with ease
Featuring quick release components throughout the bike on the seatpost, stem, and handlebar. This adjustability not only allows a range of different sized riders to ride the same bike, but also adjust for different riding positions. Allowing for rider heights from 4'8" - 6'3"
Measurements are from the floor up.
MAX Stem Height: 42 inches
MIN Stem Height: 36 inches
MAX Seatpost Height: 39 inches
MIN Seatpost Height: 30 Inches
Safety is our main concern
One of the main features of the Liberté is the Frame and stem locks. They were created with safety and strength in mind. Both are designed using a "vice grip" locking mechanism. That means the more stress on the folding hinge the tighter it's locked. A secondary safety lock snaps in place to prevent any accidental unlocking when riding to keep you moving forward with confidence.
Genuine Shimano Components
Equipped with genuine Shimano Components like a 8 speed Revo Grip shifter, paired with an 8 speed Altus rear Deraileur. There are plenty of gears to get you moving uphill and down.
170mm Hollow style two piece crankset with an external bearing bottom bracket, not to mention a 48 tooth aluminum front chainring and a aluminum chainring protector.
The Liberté easily folds to a compact size
Height: 27 inches
Length: 31 inches
Width: 12.5 inches