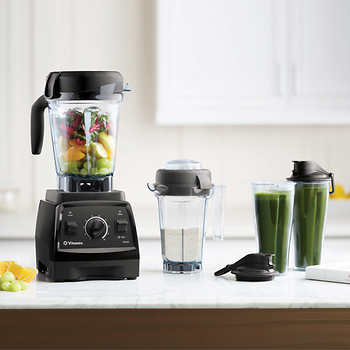 Vitamix 7500 Blender Super Package with 2- 20oz To-Go Cups
Product details have been supplied by the Manufacturer, and are hosted by a third party.
Vitamix 7500
An evolution in design both inside and out, the Vitamix 7500 includes a high-performance motor for quicker and easier processing of dense ingredients, as well as an ultra-responsive Variable Speed Dial and Pulse feature for superior precision. With a modern design and intuitive controls, you'll enjoy keeping the Vitamix 7500 on your counter for daily use.
Create smoothies, hot soups, and frozen drinks in a single machine
Compact, 64-ounce container is designed to fit under most kitchen cabinets
Includes full-color, hardbound cookbook with hundreds of chef-tested recipes
Features
Your machine is designed and built for outstanding performance and unsurpassed durability. When purchasing a Vitamix, you'll enjoy:
Create smoothies, hot soups, and frozen drinks in a single machine
The ability to chop, cream, blend, heat, grind, churn, and more with a single machine
Quick and easy self-cleaning with a drop of dish soap and warm water; just run on High for 30 seconds
120 volt, 50/60 Hz 12 amps (North America)
Radial cooling fan and thermal protection system
Ongoing recipe ideas and community support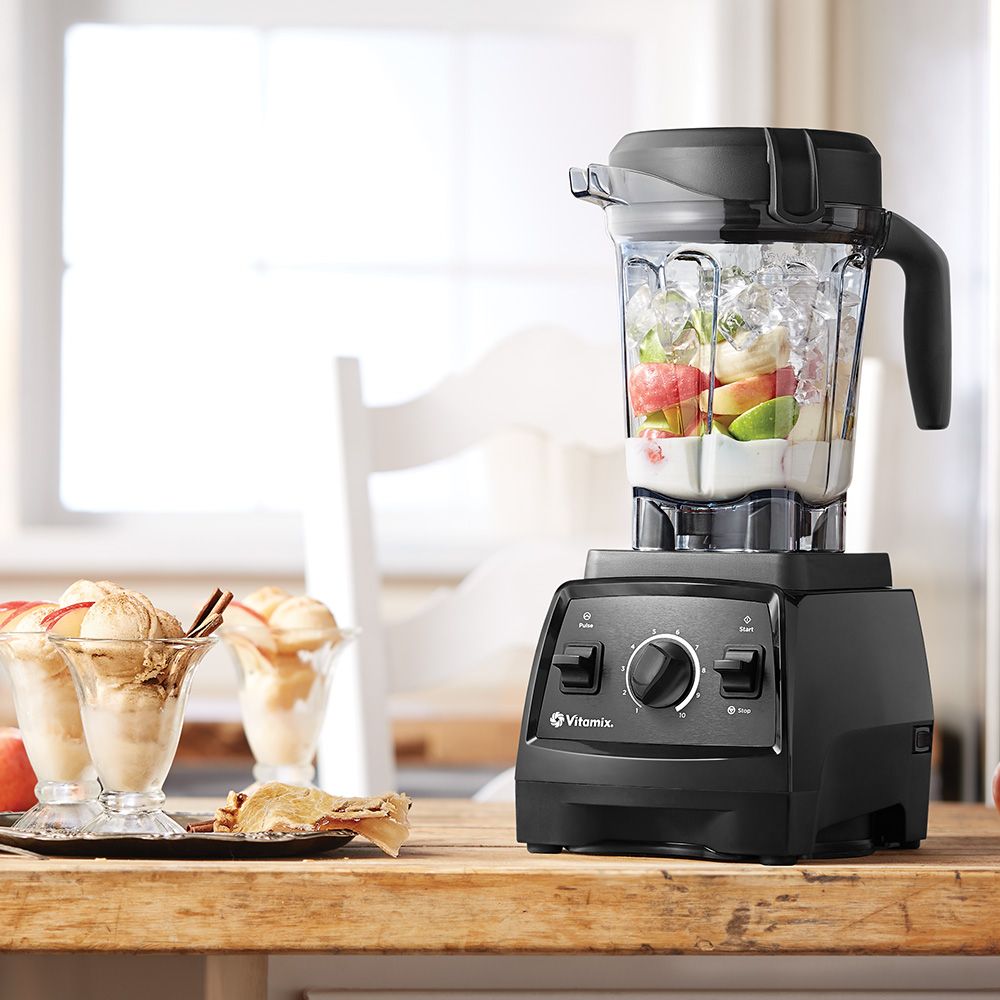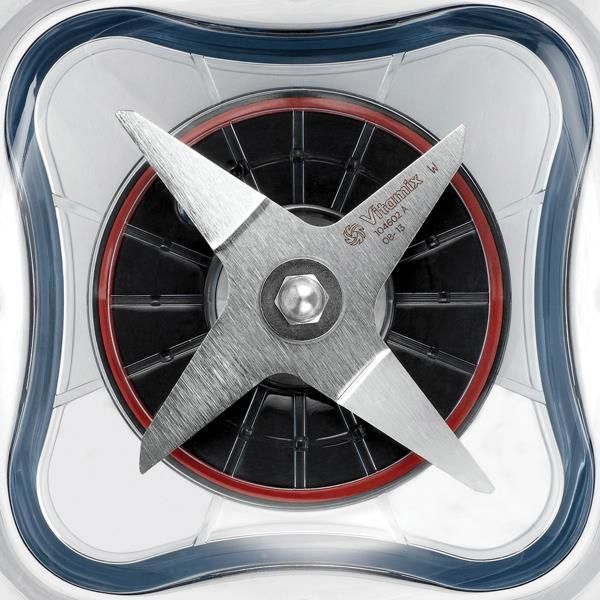 Unit Dimensions:
17.5 in. tall (with container in place)
9.4 in. deep
7.7 in. wide
12.5 lb.
Cord length: 6 ft.
Vitamix Blender Base:
2.2-peak HP motor
120 volt, 50/60 Hz 12 amps (North America)
Radial cooling fan and thermal protection system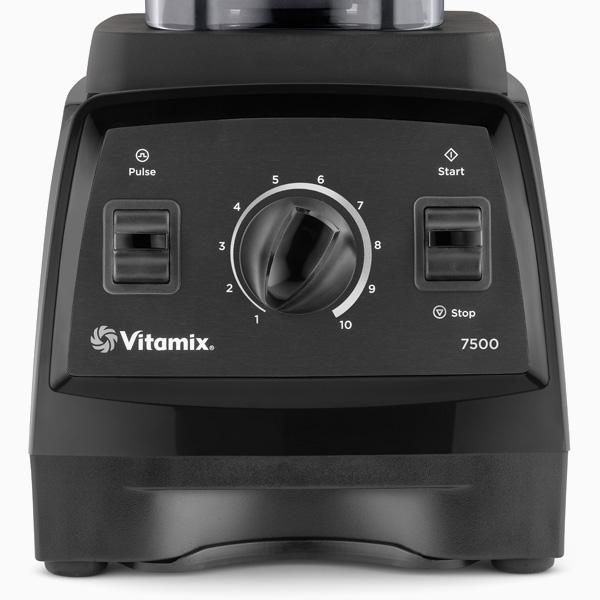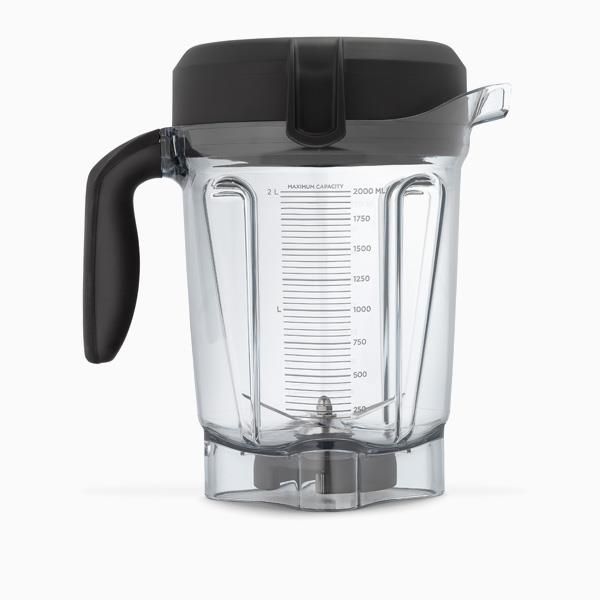 Vitamix 64-ounce Container:
Height: 10.125 in.
64-ounce rated capacity
BPA-Free Eastman Tritan® copolyester
Blades: Laser-cut, stainless-steel hammermill and cutting blades measuring 4-in. diameter to ensure a consistent blend every time
Spill-proof, vented lid with plug for safely adding ingredients while machine is running
Soft-grip, ergonomically-designed handle
Tamper with collar to prevent tool from hitting the blades
Vitamix 32-ounce Dry Grains Container
The Dry Grains Container is specially designed for efficient processing of dry grains into flour and preparing dough for the oven. This special container along with the Vitamix machine effortlessly mixes batter and prepares dough, creating fluffy muffins, soft breads, light pizza crusts and more. The Dry Grains Container can handle the toughest ingredients along with ingredients like cereal and coffee beans. Enjoy the recipes in the included Whole Grains Cookbook as well as the helpful tips written by Vitamix chefs to help to ensure that every recipe comes out of the oven just the way you expected.

Begin baking with the Vitamix-- because there's nothing like the aroma of fresh-baked goods filling the house to bring everyone together. Includes Whole Grains Cookbook.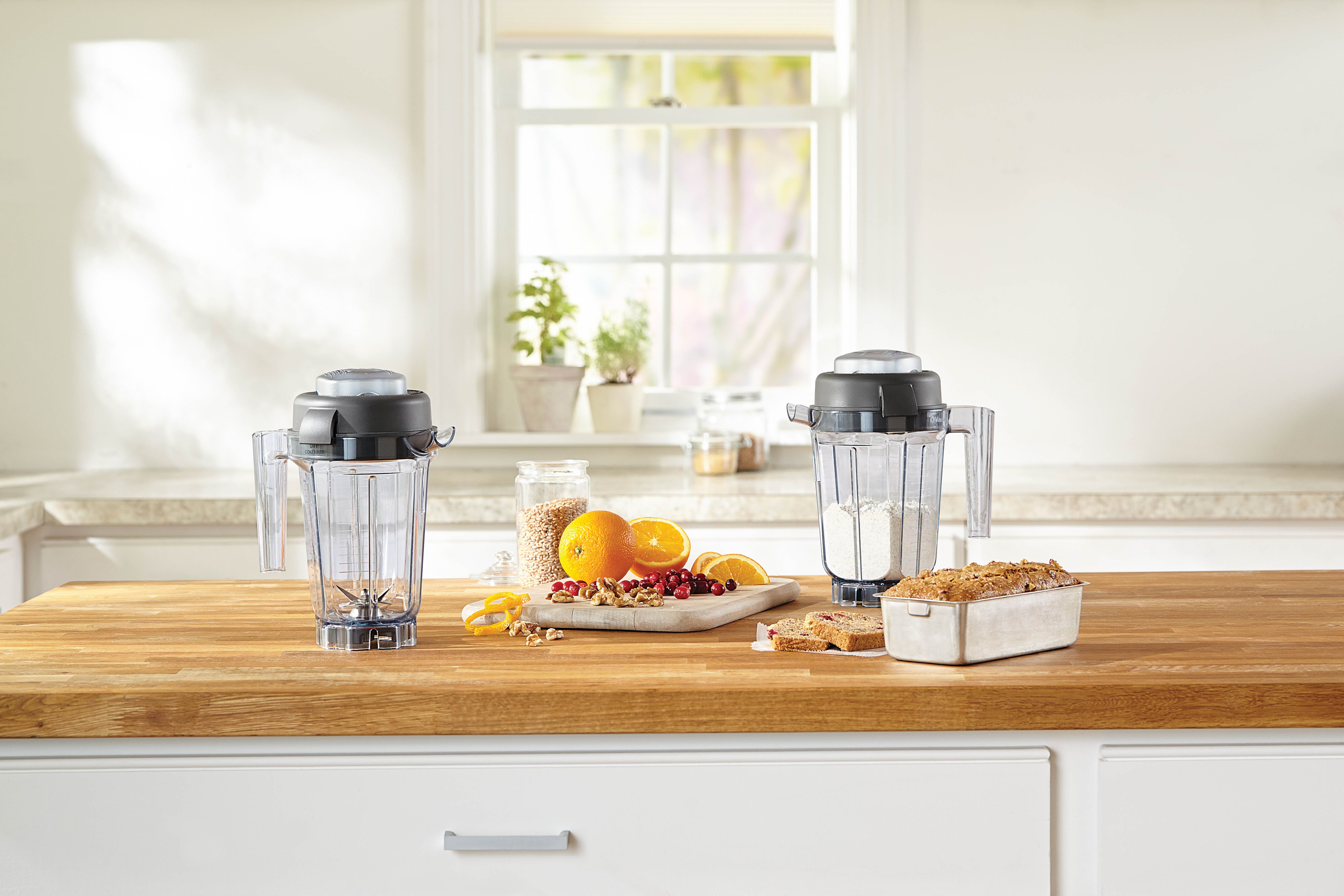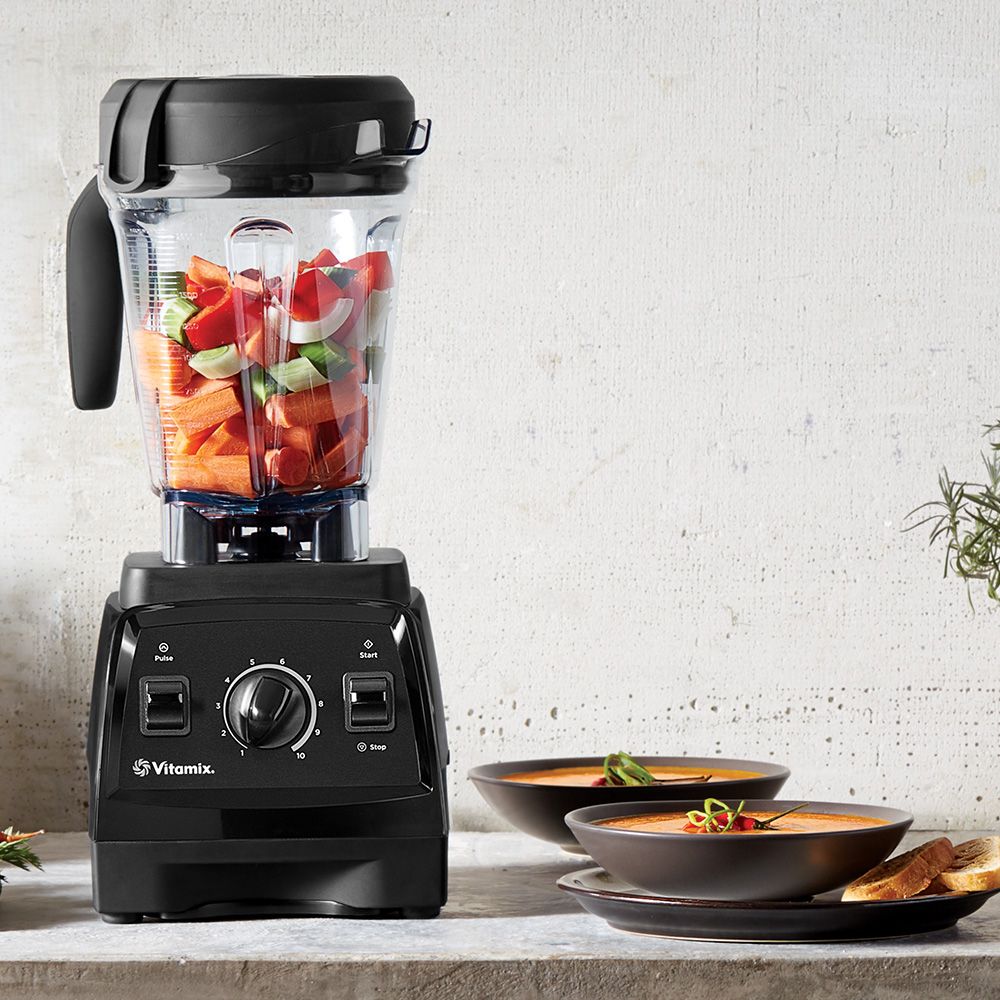 Salad Recipe - Green Coleslaw
Ingredients:
1/2 pound (227 g) collard greens, tough stems removed, each leaf cut into quarters
1 large bell pepper, 9 ounce (256 g), any color, quartered
1 medium onion, 5 ounces (142 g), quartered
3 medium carrots, 9 1/2 ounces (270 g), cut into thirds
1/2 cup (120 ml) apple cider vinegar
1/3 cup (67 g) granulated sugar
1/4 cup (60 ml) canola oil
1 teaspoon dry mustard
1 teaspoon celery seed
1/2 teaspoon salt
1/4 teaspoon ground black pepper
Instructions:
Place half of the collard leaves into the Vitamix container, fill to 6 cup (1.4 l) mark with water, and secure lid
Select Variable 5
Pulse 3 times until chopped. Pour out into a colander and place in large-size mixing bowl. Repeat with remaining collard leaves
Place pepper and onion quarters into the Vitamix container and secure lid.
Select Variable 5
Pulse 6 to 7 times until chopped. Remove to bowl with chopped collards
Place carrots into the Vitamix container and secure lid
Select Variable 6
Pulse 5 to 6 times until chopped. Remove to bowl containing other vegetables
Add vinegar, sugar, oil, dry mustard, celery seed, salt and pepper to a small saucepan and stir together. Bring to a boil, stirring to dissolve sugar. Remove from heat and pour over collard and vegetable mixture. Stir to coat. For best result, cover and chill 4 hours or overnight before serving.
Includes:
Compact, 64 oz. container is designed to fit under most kitchen cabinets

32 oz. Dry Grains Container

2- 20 oz. To-Go- travel containers
Simply Natural Cookbook
Whole Grains Cookbook
The Tamper is included to help you process thick mixtures like peanut butter and frozen desserts. It fits securely into the 64-ounce container with a special collar designed to prevent it from hitting the blades