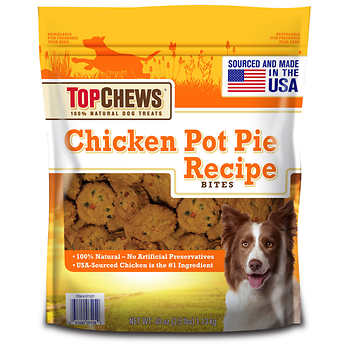 Top Chews Chicken Pot Pie Treats, 40 oz.
Pet parents like the idea of treating their dog with the flavors of their favorite home-cooked meals.
"It smells like a pot pie. You can smell the chicken and the vegetables....This is how I cook for my family."
Sourced & Made in the USA:
USA-Sourced Chicken is the #1 Ingredient
No Artificial Preservatives
For All Dog Sizes
40 oz. Value Size
Ingredients:
Chicken, ground potatoes, vegetable glycerin, peas, carrots, natural flavors, distilled vinegar, salt, colored with paprika.
Chicken: A natural source of easily digestible protein.
Ground Potatoes: Provides B vitamins, complex carbohydrates, Vitamin C, potassium, iron, and magnesium.
Vegetable Glycerin: Used as a humectant to aid in maintaining a shelf-stable moisture level while providing a palatable texture for the dogs' enjoyment.
Peas: Provide a vegetable component to the dog's diet which contribute Vitamin A, Vitamin B6, Vitamin C, and Vitamin K as part of their nutritional component.
Carrots: Provide antioxidants and are high in Vitamin A and carotenoids.
Natural Flavors: Serves as a natural flavor enhancer for palatability and the dog's enjoyment
Distilled Vinegar: 100% natural preservative and antimicrobial that maintains freshness.
Salt: Acts as a natural preservative.
Paprika: Natural vegetable source used to obtain optimal color.
Calorie Content (calculated): ME=3,100 kcal/kg; 34 kcal/piece