Tekk Trainer Multi-sport Pro Trainer with Bonus Target Net
Product details have been supplied by the Manufacturer, and are hosted by a third party.
Playlist
Soccer Training with MLS MVP

01:31

Eddie Pope 3X World Cup Player - Field Player Training Video

02:20

Former World Cup Coach - Goalkeeper Training Video

02:50

Basketball Post Player Training Video

02:26

Basketball Guards Training Video

03:22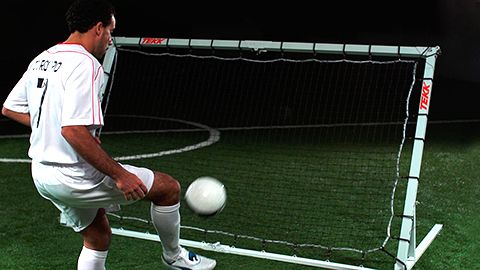 Get Better on Your Own with the Tekk® Trainer
Tekk® is the leader in the next generation of training equipment. The Tekk® Trainer is used by MLS soccer teams and the leading basketball programs in the country for daily training. With its patented one- piece design the Tekk® Trainer is the strongest and largest portable trainer on the market that angles with 40 square-feet of surface area. With a powder-coated frame made of aircraft-grade aluminum and 3mm-thick steel brackets, it has the strongest rebound of anything available.
Used by competitive athletes for soccer, basketball, lacrosse, baseball and volleyball.
Features
Ball comes back to you at game speed
Strongest portable trainer on the market; crossbar withstands 150 lb load, built to last for years
Largest portable trainer on the market that angles – 40 square-feet of surface area
Angle adjusts to seven positions and provides all- around training for players of every position
All in one piece; folds for easy storage; fits in the car
Used by pro players for daily training
Sets up in 5 minutes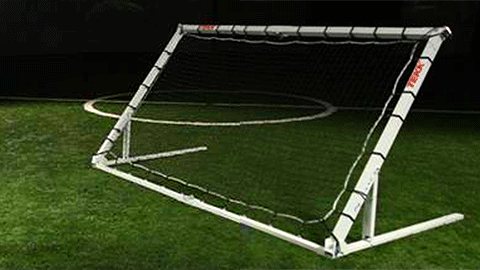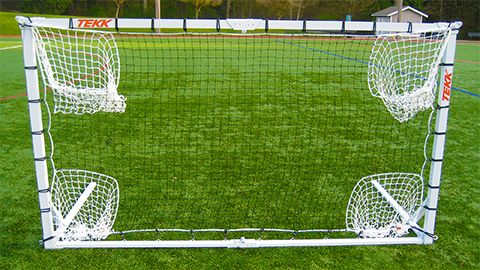 Includes Target Rebound Net with Four Holes
Bonus - comes with two nets, regular rebound net and target rebound net with four holes
Now you can have even more fun and take practicing to another level
Practice target shooting for soccer, hockey and lacrosse
Practice passing for football
Practice chip shots for golf
If you miss the hole, the ball will rebound back to you
Practice on Your Own and Get Better Faster
With the Tekk® Trainer you don't need anyone else. You can practice by yourself and get better on your own with the exact same product the pros use at their training sessions. The ball comes back to you at game speed, simulating real game situations. This enables athletes to master their technique and control.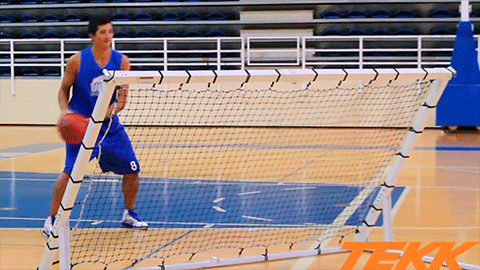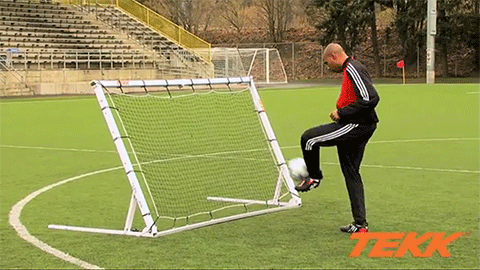 Basketball Training
Ball comes back to you at game speed – practice game situation passing, catching, shooting, dribbling
Angle adjusts to seven positions for all around training
40 square feet of target area
Strongest and largest basketball trainer on the market, built to last for years
Used by pro players for daily training
Soccer Field Player Training
Practice side volleys, in-step, passing, shooting, trapping, and heading
Work on ball control with your thighs and chest
Strengthen your weaker foot
Increase leg strength
Control and shoot; control and dribble
Practice ball striking and finishing
Use it as a wall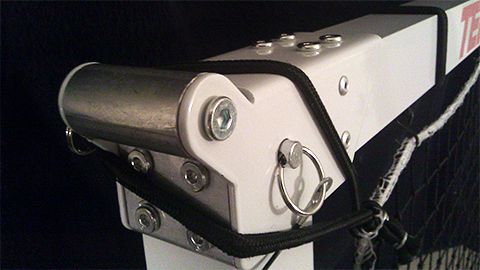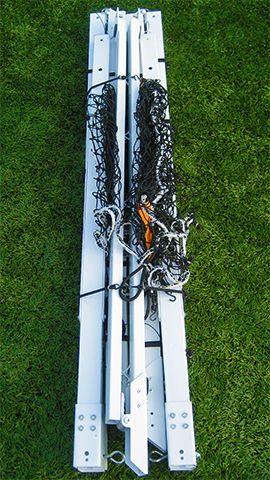 Multi-sport Training that Simulates Game Situations
Lacrosse – practice passing, catching & shooting
Baseball – practice pop-ups, line drives & ground balls
Volleyball – practice passing, setting & hitting
Soccer Goalkeepers – practice footwork, diving, hand positions, catching and body shape
Specifications
2 inch-square aircraft grade aluminum tubing
Heavy duty 3mm-thick steel brackets
Tubing and brackets are powder coated
Folded dimensions in inches: 59 L x 10 W x 4 H
Set-up dimensions in feet: 5 H x 8 W x 4 D
Weight: 40 lbs
Accessories Included:
Rebounder Net: 45 ply P.E. knotted 1.75 inch square
Target Rebounder Net: 45 ply P.E. knotted 1.75 inch square
Net bungee straps – 6mm thickness
Heavy duty 12" spikes with flanges
Rubber pads
Warranty: