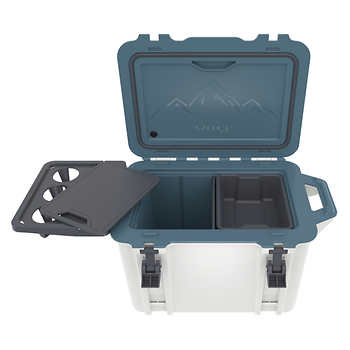 OtterBox Venture 45-cooler Bundle
Product details have been supplied by the Manufacturer, and are hosted by a third party.
Unrule the Outdoors with OtterBox
Rugged Venture Coolers

From day-trip hikes, weekend treks, to week-long+ disappearances into the woods, Venture has the right sized cooler for your every adventure.

Venture's modular system configures for the demands of all your endeavors. With an ever-growing collection of accessories, you design the inside and outside of Venture with all the right tools and conveniences.

The durable 45-quart OtterBox cooler is built to keep your tribe full, hydrated and happy on weekend outings. Keeps ice up to 14 days.
More about OtterBox Venture Coolers
Bottle Opener

Mount the OtterBox Bottle Opener to your Venture Cooler (included with all models). You'll always know where to crack open a cold beverage. Made with 100% stainless steel, ensuring a long life opening all your bottled drinks.

Separator & Dry Storage Tray

Separate snacks from the day's catch in your Venture, and the dry storage tray keeps dry stuff separate from wet stuff in your cooler. The OtterBox Separator & Dry Storage tray creates compartments in your Venture Cooler that divvies up the space however you configure it.

Venture Side Table

Attach this handy OtterBox Side Table to your Venture cooler and extend your working surface in a snap. And just by doing so you'll also be adding three cup holders, found underneath the included Cutting Board.
Limited Lifetime Warranty

Covers defects in manufacturing, material and/or workmanship under normal use and service for the lifetime of the product.

American Made

Designed in Fort Collins. Made in Detroit. With that kind of build pedigree, you know this is one tough cooler.

Very Bear Resistant

Sorry, Yogi. Venture coolers are certified bear-resistant by the Interagency Grizzly Bear Committee (IGBC) (when secured with the Locking Kit).
Ultra Bear-Resistant Venture Coolers