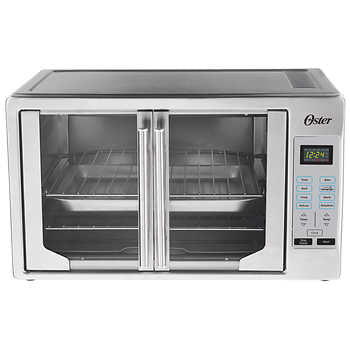 Oster Digital French Door Countertop Oven
Item may be available in your local warehouse for a lower, non-delivered price.
Product details have been supplied by the Manufacturer, and are hosted by a third party.
Features
French Door & Brushed Stainless Steel Exterior

Sleek design fits most décor. A single door pull opens both doors with just one hand for ease and convenience while cooking.

Extra Large Capacity

Holds a family size chicken, roast, casserole or 18 slices of bread.

Digital Controls

Makes it easy to set cook functions, including dehydrate function to make you own dried fruits and vegetables. 90-minute timer with signal automatically turns oven off. Preheat ready feature lets you know oven is heated to set cooking temperature.
Use 50% Less Energy

Full-size ovens are not very efficient for cooking small- to medium-sized meals. Cooking a meal in the Oster digital french door oven with convection has the potential to save over 50 percent of the energy used to cook the same meal in a conventional electric oven.

There's no reason to turn up the heat with your conventional oven, as the Oster Digital French Door Oven cooks more efficiently, using up to 50% less energy. With 90-minute timer, your foods cook as long as you need, then the oven shuts off automatically. With a countertop oven this attractive, this efficient and this easy to use, you'll enjoying using it for every meal you prepare!
Dual Rack

Two racks provide maximum cooking flexibility. Durable baking pan and baking rack doubles as a broiling pan when assembled. Removable crumb tray makes clean up easy.

Turbo Convection Baking Technology

Turbo convection heat technology circulates hot air throughout oven for faster, more even cooking.

Interior Light

Conveniently check food without opening doors.



Dehydrate Function

The Oster® Digital French Door Oven's Dehydrate function control allows you to slowly cook your food at a preset temperature of 150°F for an adjustable time of up to 6hrs. Just select the dehydrate function, set your time, push the start button and you're dehydrating! It's that easy!
Instruction Booklet
Download to Learn More

PDF, 9.08MB,

10 pages