Natural Fitness Warrior Yoga Kit
​
Product details have been supplied by the Manufacturer, and are hosted by a third party.
We've created this Natural Fitness Warrior Yoga Kit to be perfectly in-tune with your yoga practice. As you flush out toxins you'll stay safe as the yoga mat provides great traction and is made without the harmful chemicals found in PVC foam mats. The cork yoga block and hemp yoga strap help you take full advantage of the increased flexibility that comes with intense heat while the microfiber yoga mat towel keeps you and your mat dry.
Natural Fitness Warrior Yoga Kit

Includes:
WARRIOR Yoga Mat: Teal

Yoga Mat Towel: 26"W x 74"L - Carbon/Sun

Cork Yoga Block: 5.5" x 9" x 3.5"

Hemp Strap: 8' - Granite

YOGO Traveler Mat Bag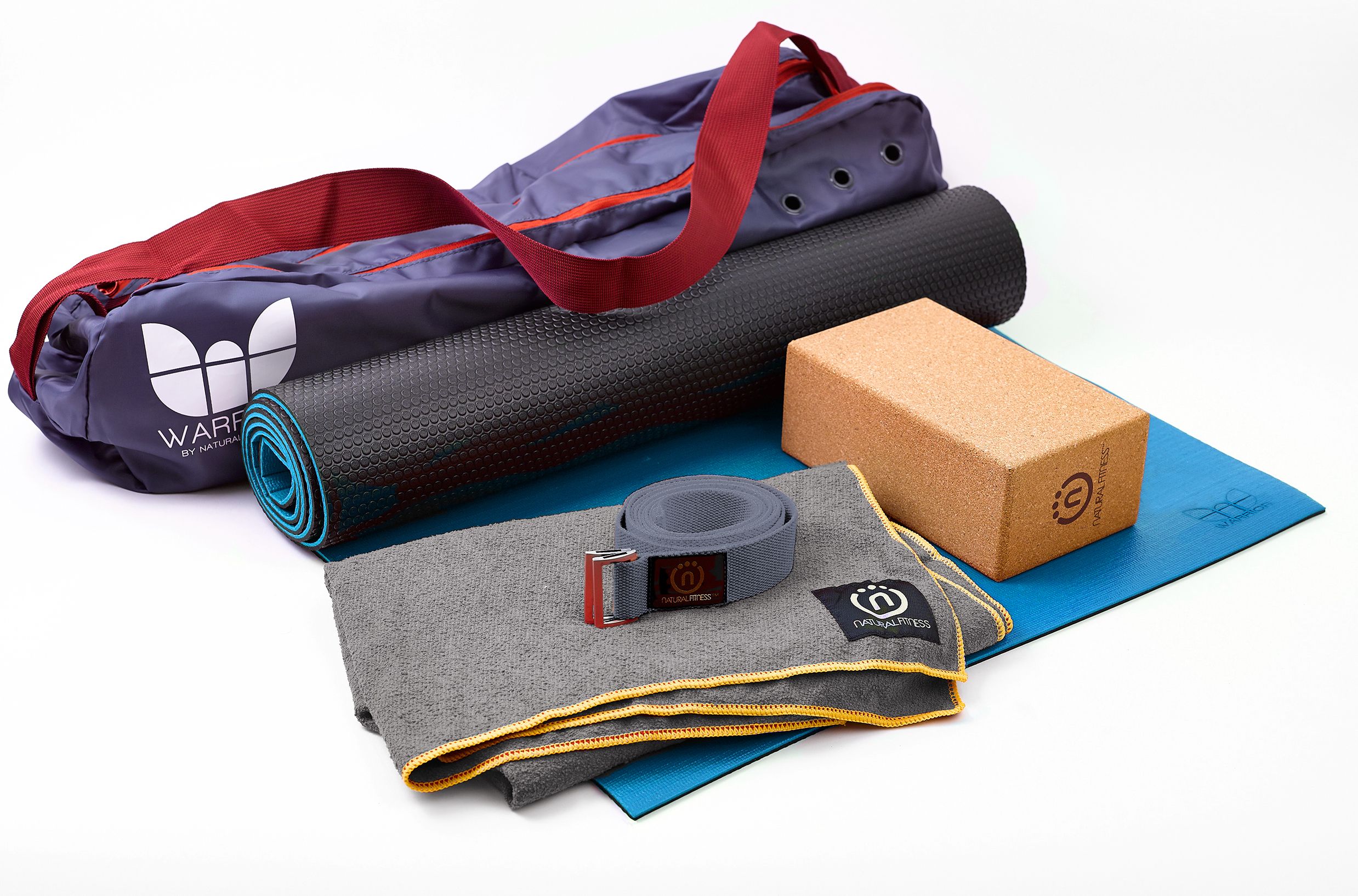 Natural Fitness Warrior Mat

The Natural Fitness Warrior Mat is highly durable, it is built to withstand the daily sessions of the most intense and lengthy yoga practices. Manufactured using a proprietary eco-friendly composite material, it is without the harmful phthalates or toxic chemicals found in those PVC foam mats, it allows you to center yourself physically without disrupting your moral compass.
SIZE: 24" x 69" x 5mm
COLOR: Teal on one side and Black on other.
Natural Fitness Yoga Towel

The Natural Fitness Yoga Towel is made from a unique microfiber which is super absorbent to provides excellent slip-resistance when damp so it is ideal for Bikram or other forms of Hot Yoga.
SIZE: 26" Wide x 74" Long
COLOR: Carbon/Sun
Yogo Traveler Yoga Bag
The YOGO Traveler Bag has Extra Wide Double Zip Opening for fitting your extra thick mats and belonging; Ventilation holes inside allow your mat to breathe after class; strong and secure carry strap adjusts in length for easy carry.
SIZE: 7" Diameter x 27" Long
Cork Yoga Block

The Natural Fitness Cork Yoga Block is the ideal replacement to foam blocks for a more natural feel. Products made from cork are biodegradable, compostable and recyclable.
Cork is a renewable resource harvested from the Cork Oak Tree; it has great elasticity characteristics and is Lightweight, strong and stable. Products made from cork are biodegradable, compostable and recyclable. The Cork tree regenerates its bark and can be harvested in years to come, with an average lifespan of 200 years, one tree can be harvested 20 times.
SIZE: 5.5" x 9" x 3.5"
Hemp Yoga Strap-8 ft
The Yoga Strap is 8 ft Long for more pose options, includes premium high-strength buckles and is made from HEMP- a stronger & longer wearing material
Made from HEMP Material- Hemp fiber is a stronger, longer-wearing, pesticide-free alternative to cotton. It is highly resistant to most insects and disease and helps eliminates the need for pesticides and herbicides. Hemp is the #1 biomass producer on the planet and sustainable help reduce deforestation. Products made from hemp fiber are biodegradable, compostable and recyclable
SIZE: 8 FT