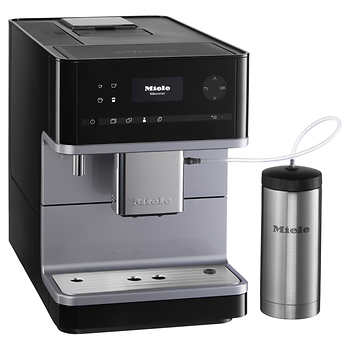 Miele Countertop Coffee Center
Order up a one-touch latte or cappuccino in your own kitchen – single or double size, as strong as you like it. The Miele CM6350 is brilliantly engineered for ultimate convenience, with a menu of café-style coffee drinks at your fingertips and simple digital controls to tailor each cup to your exact preferences. In addition to making barista-quality espresso, cappuccino, latte macchiato and caffè latte, you can now make an entire pot of coffee – up to 8 cups – with the simple press of a button (carafe sold separately). Plus, a dedicated hot-water spout lets you enjoy tea or Americanos whenever you'd like.
Features:
DirectSensor control panel with 4 row text display
One-touch function for cappuccino and latté
One-touch for two mugs or for double-sized cappuccinos and lattés
Coffee strength selectable per cup
Ten customizable user profiles
Built-in conical grinder with 5 settings
Stainless Steel Milk Flask
Integrated cup warmer
Electronic steam valve
15 Bar Pump for maximum extraction of flavor.
Dedicated hot water spout
Automatic cleaning program
Height adjustable coffee spout 3" — 5.5"
Dishwasher-safe drip tray


Dimensions:
Depth 17" Width: 10" Height: 14"
10.5 oz bean container
60.8 fl oz water tank
16 fl oz Stainless-Steel milk flask included
Weight: 22 lbs.