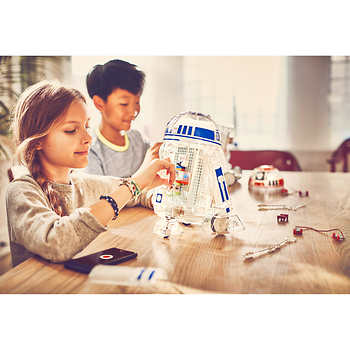 littleBits Star Wars Droid Inventor Kit - Deluxe Edition
Item may be available in your local warehouse.
Kids create, customize, and code their own Droid, bringing it to life with littleBits electronic blocks! With the littleBits Droid Inventor Kit Deluxe Edition, Star Wars loving kids take their Droid on over 23 in-app missions. The Deluxe Edition includes bonus stickers and an additional DC motor (enabling head rotation). This kit comes with everything kids need to create and customize their R2 Unit straight out of the box. No Parents needed, kids can assemble their Droid with step-by-step in-app video instructions and then code and control it with Star Wars inspired missions like Drive Mode, Self-Nav, Force™ Mode, and Patrol Mode. After mastering their Droid Inventor skills, kids continue on to challenges that spark creativity and get them inventing brand-new Droids.
Includes:
Power Bit
Wire Bit
Servo motor Bit
2 DC motor Bits
Proximity sensor Bit
Control hub Bit
4 Sticker sheets
20 Droid parts
9V Battery Included


Features:
Recommended Age: 8+ years old
Force Mode: With the wave of a hand, kids can guide their Droid like they are a Jedi using the Force.
Patrol Mode: Take your Droid on patrol. Add a DC Motor to spin its head while driving.
Self-Navigation: Let your Droid go for a solo spin! The Droid detects obstacles and changes course like it has a mind of its own.
Droid Style: Every kid is different, so their personal Droid should be, too! Custom stickers help kids make it their own.
Coding: Learn real coding fundamentals like logic, variables, and loops as you give your droid new abilities with easy block-based coding, and take it on 6+ coding missions.
Missions & challenges: the Deluxe Edition includes over 23 in-app Droid missions to constantly engage kids.
Easy coding: learn how to control electronics with code in 6+ Block-Based coding missions.
STEAM Skills: kids learn STEAM (Science, Technology, Engineering, Art, and Math) concepts through play
Customizable: missions help kids get creative, inventing new Droids & giving them personality.
Build it Yourself: kids become creators of technology, not just consumers of it.
Requires Smart device: either iPhone (iOS 10.0 or later) or Android (KitKat 4.4 or later with Bluetooth 4.0 or later and an accelerometer) is required to build and control your Droid. Amazon devices not compatible at this time.
Complete Droid kit: includes all electronic blocks, Droid parts, 9V battery, and free app.
No grown-ups necessary: kids can easily assemble with step-by-step, in-app instructions.
Inspires invention: all electronic blocks can be rearranged so the Droid can perform new tasks.
Free Droid Inventor App: with step-by-step instructions and video tutorials guides kids through 23+ activities creating, customizing, and coding Droids.
Award-winning: winner of 50+ toy awards and gift guides, including TOTY's 2018 Creative Toy of the Year, Good Housekeeping, and TTPM.
Comes with 20 authentic Droid sounds from the Star Wars films and ability to record your own.
Legal Warnings: This product contains (a) small magnet(s). Swallowed magnets can stick together across intestines causing serious injuries, infections and death. Seek immediate medical attention if magnet(s) are swallowed or inhaled. Not suitable for children under 8 years.
Made in China


Languages Available:
Canadian French
Italian
German
Spanish
Dutch
Chinese
Japanese
Korean