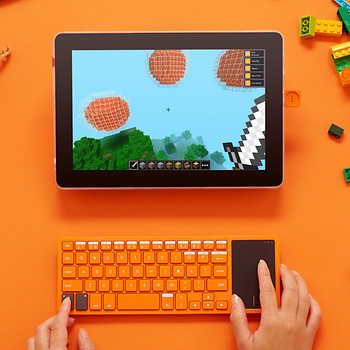 KANO Computer Kit Complete - Learn to Code
Make your own laptop. Build the screen, battery, USB ports, speaker, sound sensor and more. With 100s of playful projects learn to code art, music, apps, exclusive voice, and sound projects. Don't just play Minecraft, hack it to do something new. Simple, fun, and for everyone.
Learn to code
- 100+ creative challenges and stories. With simple steps, learn logic, Python, Javascript, and Terminal commands, to set you on your way to creating your own games, websites and more in the future. Level up as you make art, games and music. Simple for beginners, expansive for experts. Code your own musical masterpieces, and animations that move to your voice. Don't just play games, change the rules. Take control of Minecraft, Pong and Snake. Code exclusive voice and sound projects.
Endless play
- Once you've learnt the basics, there's no end to how much you can make. Code your own games, building your own powers for Minecraft. Watch out for constant free updates and new coding challenges – delivered to your kit.
Kano World
- Become part of our free creative community. Make, share, and play with art, games, and music by people in 86 countries. Be inspired, see the code behind any creation, and tweak it to make it your own. Safe and friendly.
Includes:
Step-by-step instruction book
10.1'" HD screen
Raspberry Pi 3
Battery
DIY speaker
Wireless keyboard
Case and stand, memory
3 USB ports
HDMI and power cables
Sound sensor
Stickers


Features:
Recommended Age: 6+

Learn to code with 100+ creative challenges and stories
Make art, games and music. Hack Minecraft to do something new
Browse the internet, watch YouTube, write stories, 100+ apps
Endless play with Kano World. Remix 500,000+ creations made by a creative community
No technical knowledge required
Includes Lifetime Care and 1 year warranty
Dimensions: 13.8" x 7.9" x 4.3"
Weight: 5 lbs
No Tools Required
Made in China