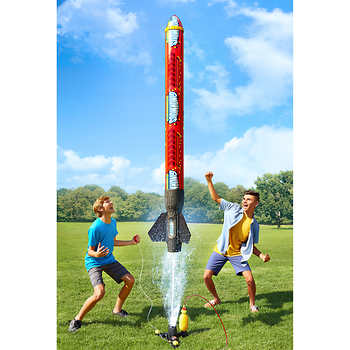 Ginormous Water Powered Rocket
Item may be available in your local warehouse for a lower, non-delivered price.
The Ginormous Rocket is over SEVEN FEET TALL and launches over 150 feet into the air! Fill the water bottle and then pump to pressurize the hose. Simply squeeze the launch bulb and let that rocket fly! From all over the neighborhood, people will look up and see your Ginormous Rocket shooting toward the clouds! The strong but soft plastic eventually floats gently back to earth and is ready for another launch for hours of outdoor fun.
Recommended Age: 14+
Features:
Box Dimensions: 10.75in x 8.75in x 21.5in
Weight: 5.01 lbs
Rocket is reusable
Adult Assembly Required
Includes Launch Base, Pump with Pump Hose and a Pressure Gauge
Country of Origin: China