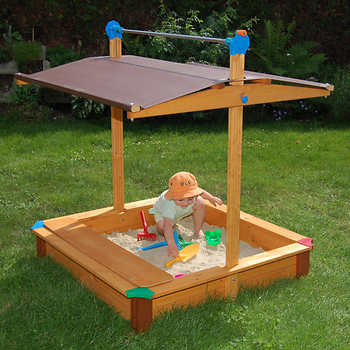 Exaco Maxi Sandbox with Protective Canopy
The Maxi Sandbox will provide backyard fun for years to come. The adjustable canopy allows protection from the sun and the rain, and keeps pets out of the sand when closed. The canopy itself is child safe, and held in place by a bolt-pin system which small children cannot manipulate. If the pin is removed, the canopy remains in place by an integrated safety brake and can only be lowered slowly by its crank. The Maxi sandbox is designed with an open bottom to allow good drainage and to keep the sand fresh and clean. Add any fabric or plastic liner to position the Maxi sanobox on a deck or patio.
The prime grade Austrian pine & spruce pieces are washed with a child safe and eco friendly, water based solution to preserve them for years to come. The edges, surfaces and colorful corner trims are rounded and sanded smooth for extra comfort. The tear-free brown vinyl canopy top that blends well into backyard surroundings.
Adult Assembly Required:
Approximate assembly time 30-60 minutes. Make sure to lay out all like parts while previewing the assembly steps. These common tools are required: Tape measure, hammer, Phillips screwdriver, 10mm open ended wrench or adjustable crescent wrench, pliers, and drill for attaching cap boards to side walls.
(Tools not included)
Customer service: Exaco Trading 877 760-8500 ext 701


Features:
Recommended Age: 2+ Years

Child Safe Water Based Finish
Adjustable canopy closes to keep the sand clean (prevent use as a litter box)
Canopy can protect children from too much direct sun
Raised cover-top locks into upright position with a safety bolt-pin
Tested and approved by for safety, durability, and quality by Bureau Veritas covering the strict CPSIA European requirements.
Roof material: brown UV stabilized to 50+ protection, the very highest in the industry
Made from PEFC certified spruce and pine wood, and treated with a water based child safe preservative finish.
Colorful plastic corner trim pieces, no harsh edges
Sandbox has no bottom to allow for occasional rinsing of sand
Warranty 2 Year for defects
Dimensions: 44" x 44" x 48" (Fully Assembled)
Weight: 38.5 lbs
Made in Austria