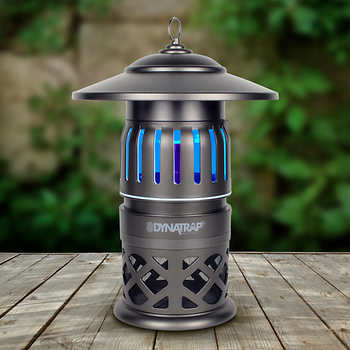 DynaTrap 1/2 Acre Tungsten Insect and Mosquito Trap
Item may be available in your local warehouse for a lower, non-delivered price.
Mosquito relief is on the way with the DynaTrap® Insect Trap. The Dynatrap® Insect Trap lets you take back your yard without the need for chemicals, pesticides, or propane. Attract and kill and other flying insects across 1/2 acre. This insect trap is engineered for 3-way protection against mosquitoes and other flying insects. First, a UV fluorescent bulb generates a warm light, attracting insects. Then a second lure, an exclusive Ti02 titanium dioxide-coated surface, produces CO2 that's irresistible to mosquitoes. Third, a powerful yet whisper-quiet vacuum fan sucks insects into the retaining cage where they dehydrate and die. A unique twist on/off feature ensures that any insects still alive in the retaining cage will not escape when the trap is turned off.
Features:
Protects up to 1/2 acre
Outdoor and Indoor use
Durable, all-weather construction
Pesticide and odor free
Whisper-quiet operation
No zapping or buzzing
No expensive attractant or propane required
Easy setup


Includes:
DynaTrap Insect and Mosquito Trap
Two Additional UV-fluorescent replacement bulbs - each will last for approximately 3,000 hours (4 months)
24" chain for hanging