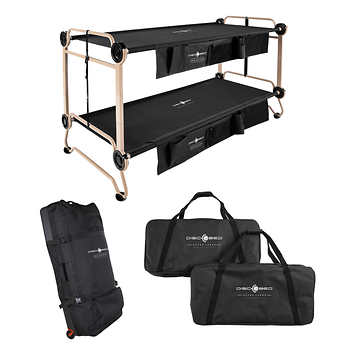 Disc-O-Bed Cam-O-Bunk XL Bundle
Product details have been supplied by the Manufacturer, and are hosted by a third party.
The Disc-O-Bed® XL Portable Bunk Bundle allows you to sleep comfortably just about anywhere! From camping in the great outdoors, as a spare bed in the home for that unexpected guest, as a bunk for when the grandkids visit, or just as an extra bed for your vacation home – wherever space is at a premium – the unique and patented XL Portable Bunk by Disc-O-Bed® with included accessories is just what you need.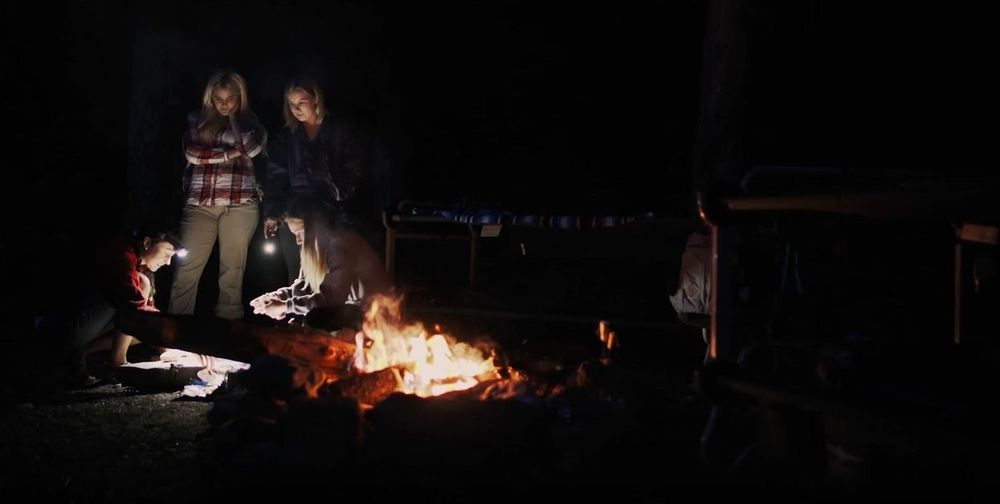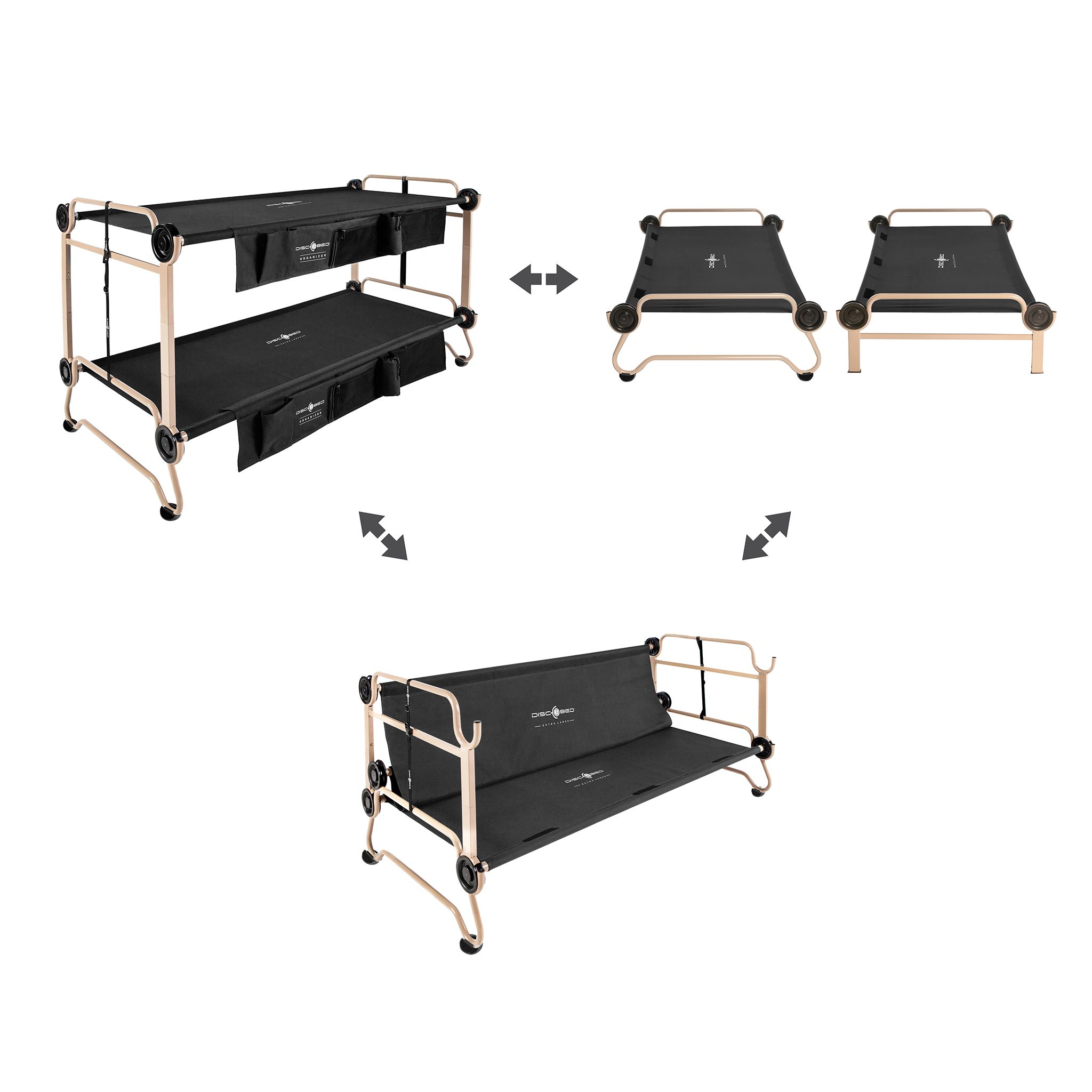 Versatile
By simple and quick action, the bunk converts into a sitting bench during the day or can be used separately as two single beds and fits most domed tents on the market today. No ladder required.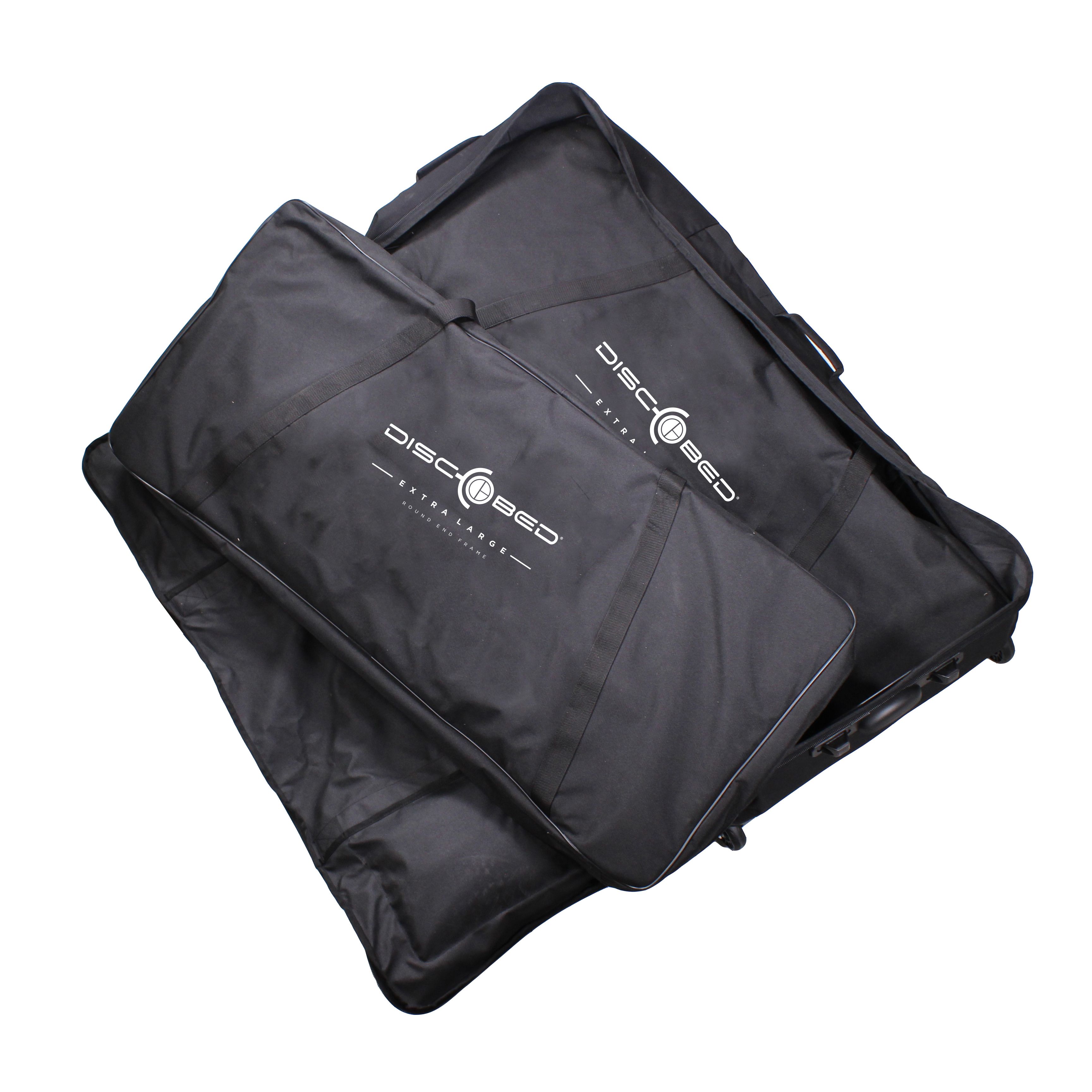 Modular in Design
The no-tool bunk assembly is quick and simple using the step by step instruction. Should you misplace a part – no need to purchase an entire bunk – all parts are available for single purchase.
Top Selling Accessories ALL INCLUDED!!
For your ultimate comfort - ALL 5 of the top selling accessories are included with the bunk kit. Whether you're looking for the versatility of the leg extensions adding an additional 7 in. between bunks, the handy storage of side organizers, the set of footpads for overall floor protection or perhaps the roller bag for easy transportation - we have you covered!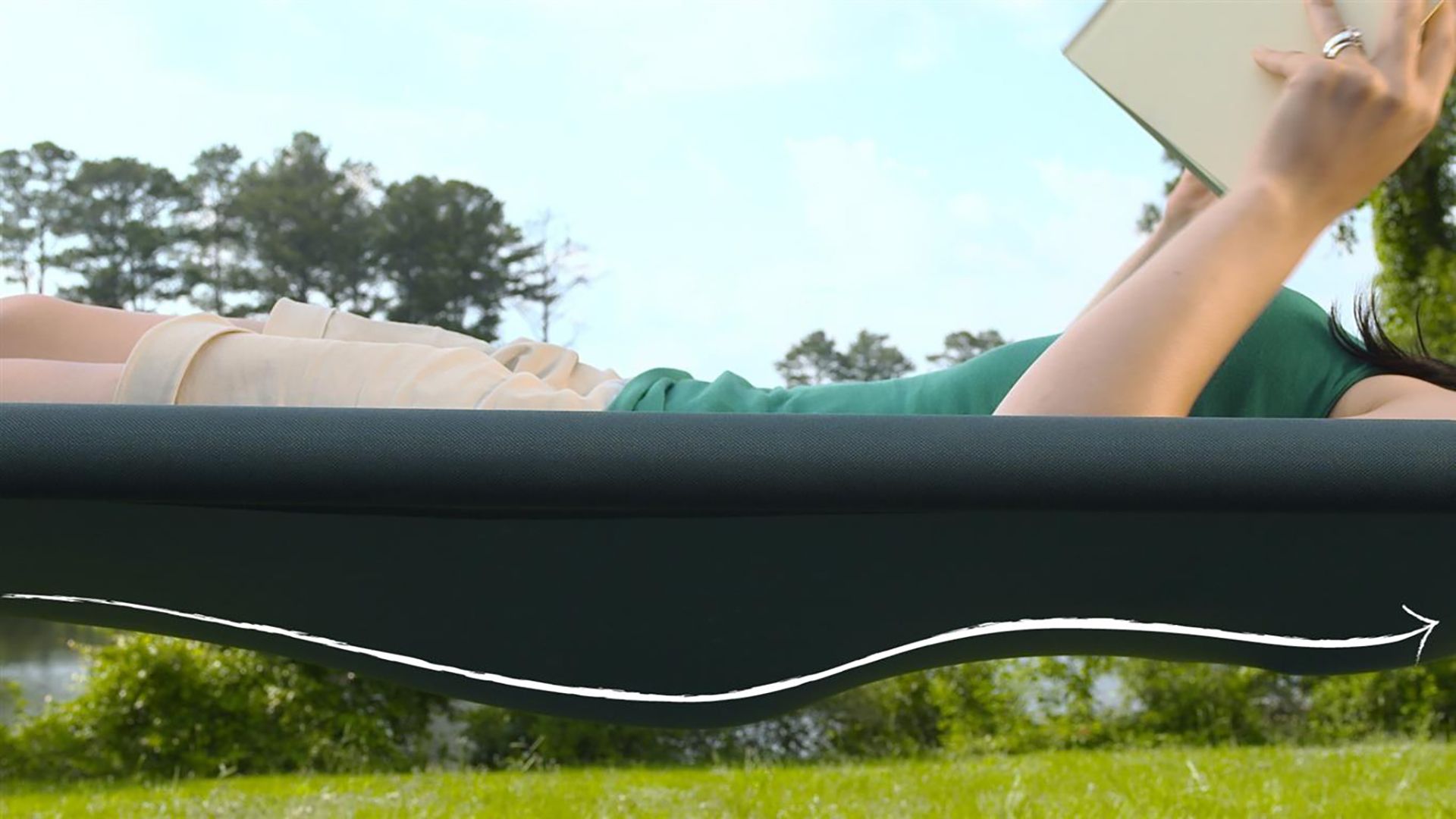 No Center Beam
Tired of uncomfortable cots or blowing up mattresses? The bunk is extremely comfortable, with no middle leg or center brace. Instead, the wider and longer sleeping deck confirms to your body shape for the contoured comfort. No mattress required.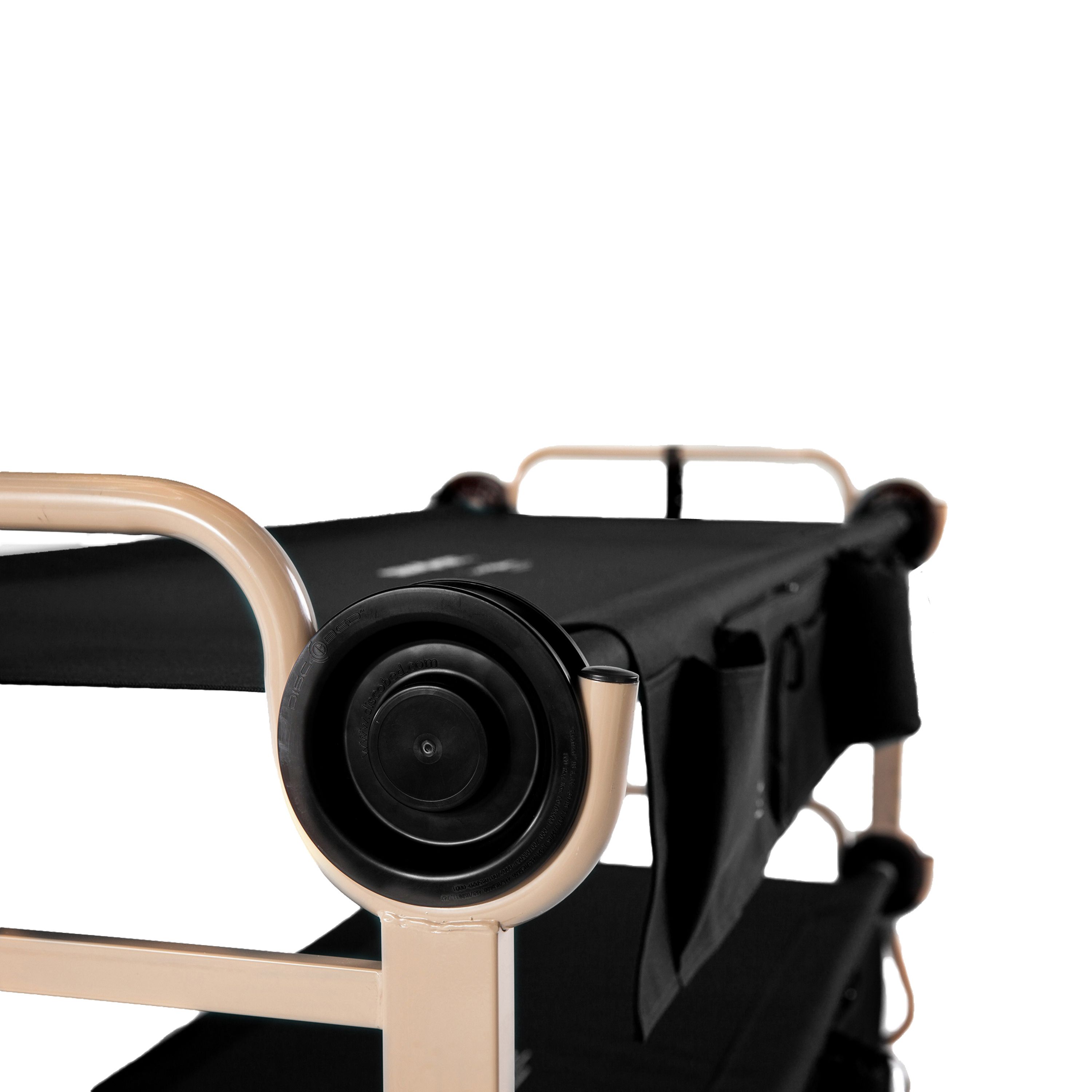 500LB Weight Tolerance
The bunk has one of the highest weight tolerances available at an astonishing 500lbs (227Kg) per single cot. The high grade Polyester sleeping deck is a generous 35" (88cm) wide, is water resistant, hygienic, and can easily be washed down with hot, soapy water and air dried if needed.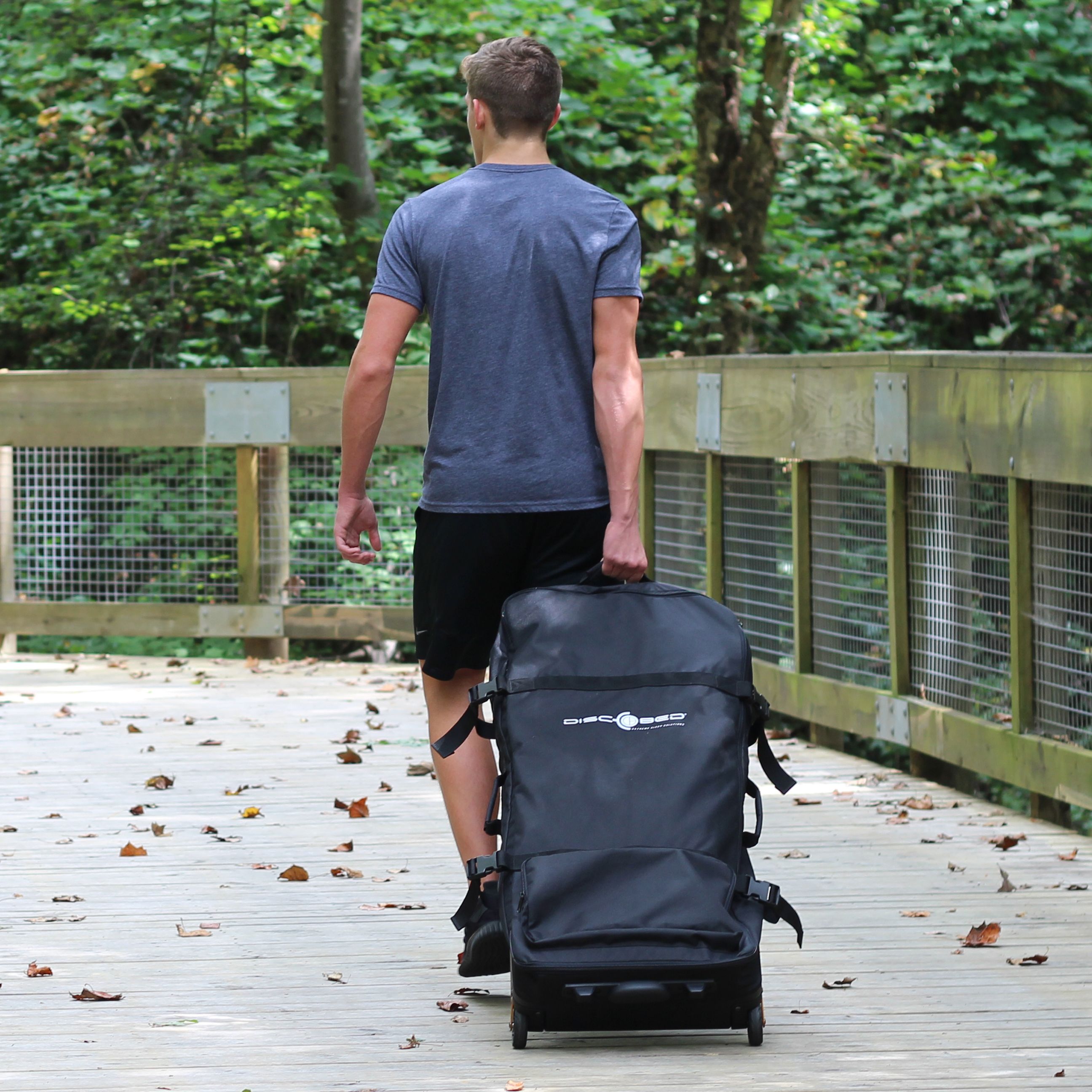 Haul & Pack Away
The bunk kit fully disassembles and all loose parts are securely fastened and stowed away into two polyester, zippered carry bags. For added convenience, both carry bags are stored in the included roller bag for quick and easy transportation.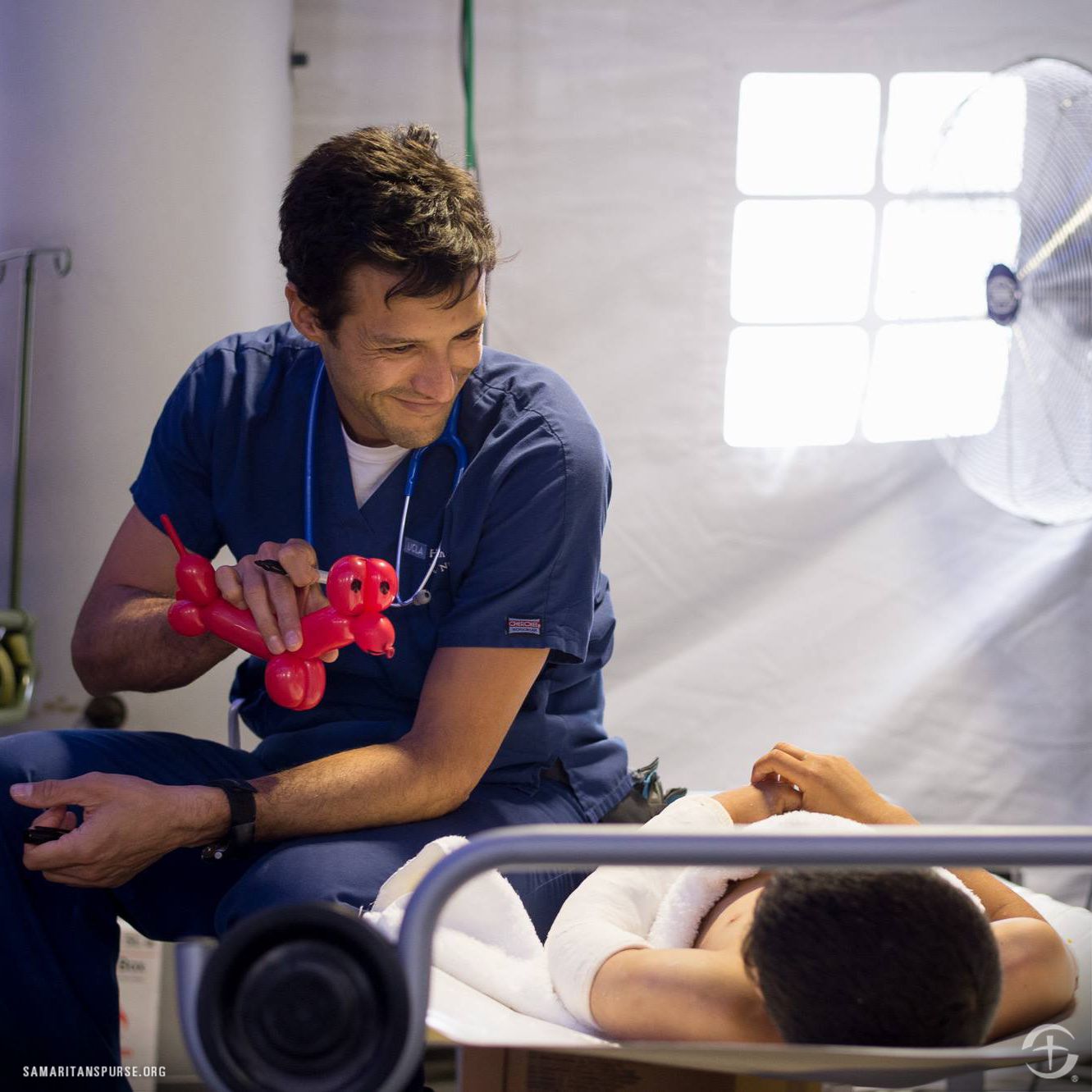 *Photo credit: Samaritan's Purse International Relief
Tried & Tested
Disc-O-Bed is recognized across the globe for its unique ability to design and deliver bunkable strength in a ready-to-go sleep system. A family-owned business since 1988, Disc-O-Bed proudly supplies the US Military, German Red Cross, Red Crescent Society, Doctors without Borders, Samaritan's Purse and most recently the humanitarian efforts with refugees in Europe.
Product Specifications:
Assembled Bunk WITH ALL Included Accessories
Bunk outer dimensions: 82" (208cm) L x 39.5" (100cm) W x 43" (109cm) H
Sleep area: 79" (201cm) L x 35" (88cm) W
Height of bottom cot: 11" (29cm)
Height of top cot: 39" (99cm)
Pack dimensions: 41" (104cm) L x 17.5" (44cm) W x 9" (23cm) H
Weight: 80lbs (203kg)
Weight tolerance: 500lbs (227kg) – per single cot
Carry bag dimensions: 39.5" (100cm) L x 15.5" (39cm) W x 4.5" (11cm) H - per carry bag
Material
Bunk: Beige, powder coated, rust resistant steel frame with black, 600-denier PVC backed polyester
Roller Bag: Black, 900-denier with PU Coating, black carbonate shell with large TPU wheels
Consists Of:
2 Cots

1 Rounded End Frame
1 Straight End Frame (with rubberized foot plugs)

2 Side Organizers
2 Carry Bags
Set of Leg Extensions
Set of Footpads
Set of Stack Adapters (2 in each bag)
2 Locking Straps (1 in each bag)
1 Roller Bag