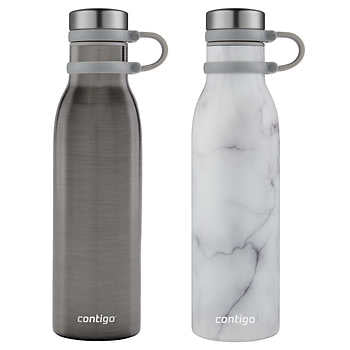 Contigo Couture 20 oz Water Bottle, 2-pack
Item may be available in your local warehouse for a lower, non-delivered price.
The Contigo Matterhorn Water Bottle provides consumers with the design, technology, and features to help fuel and assist daily activities. The Matterhorn comes with Thermalock Vacuum Insulation that keeps beverages cold for 24 hours and hot for 10. For on-the-go activities, its carry loop and leak-proof lid (when closed) provides protection against leaks and drips. The Matterhorn is BPA free, fits most car cup holders, and offers a wide mouth, which is designed for chugging and adding ice cubes.
Features:
Thermalock™ Vacuum Insulation keeps beverages cold for 24 hours and hot for 10 hours
Leak proof lid for on-the-go activities
Wide mouth ideal for chugging and adding ice cubes
Fits most car cup holders
Carry loop for on-the-go activities
BPA Free
Made in China


For product related questions please contact Ignite USA at 1-888-262-0622