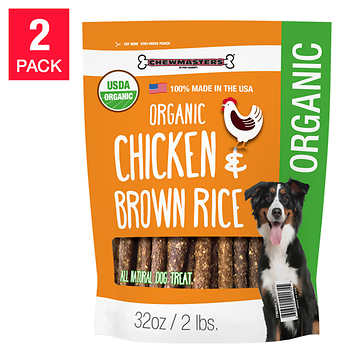 Chewmasters Organic Chicken & Brown Rice Dog Treat, 32 oz, 2-pack
Chewmasters Organic Chicken and Brown Rice is a healthy dog treat made in the USA from premium organic chicken. These treats make an ideal training aid or a healthy snack. The soft and chewy texture is ideal for all sizes of dogs.
Features:
2 x 32 oz. packages re-sealable stand up bags to maintain product freshness
Certified USDA Organic
No Refrigeration Required
Suitable for dogs of any shape or size
To be used as a treat or training aid
100% Made in USA
Always supervise your pet when giving any treat and ensure there is always fresh water available.