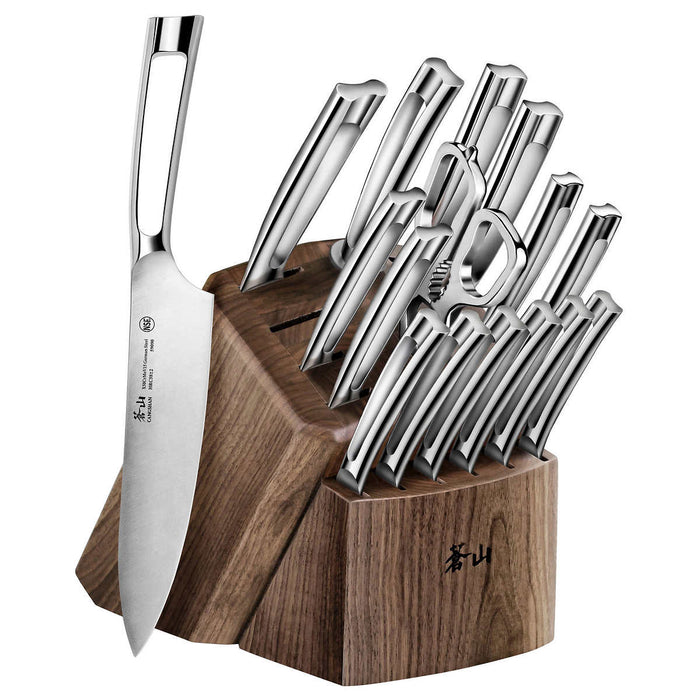 Cangshan N1 Series German Forged Steel 17-piece Knife Block Set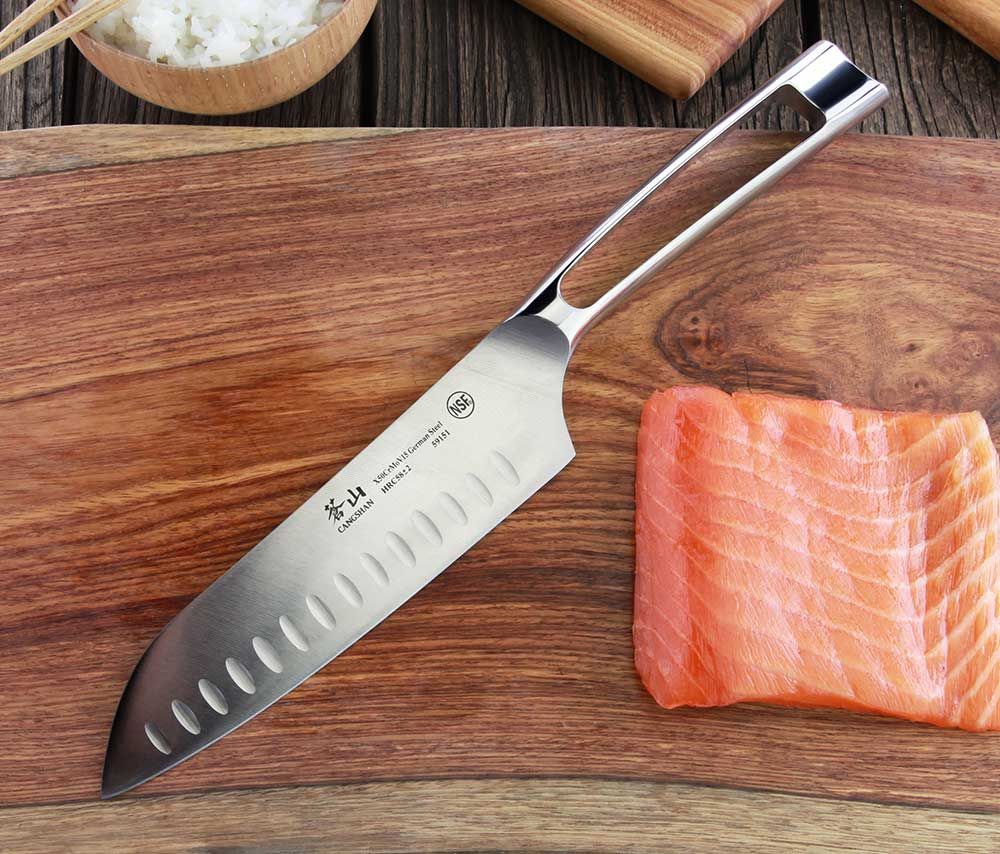 N1 Series
Award Winning Design
The 2016 Red Dot Award winning N1 Series is a story of balance, precision and great design. The ideas presented are conversations in bold contrast and the continuous journey between subtle and sharp. A minimal, sleek hollow-handle design ensure these knives are well balanced, both aesthetically and in the chef's hand. Robust and perfectly streamlined the Cangshan Large Walnut Knife Block securely houses 14 full tang knives, all-metal forged shears and diamond coated honing steel while subtly showcasing the unique beauty of the award winning knife line.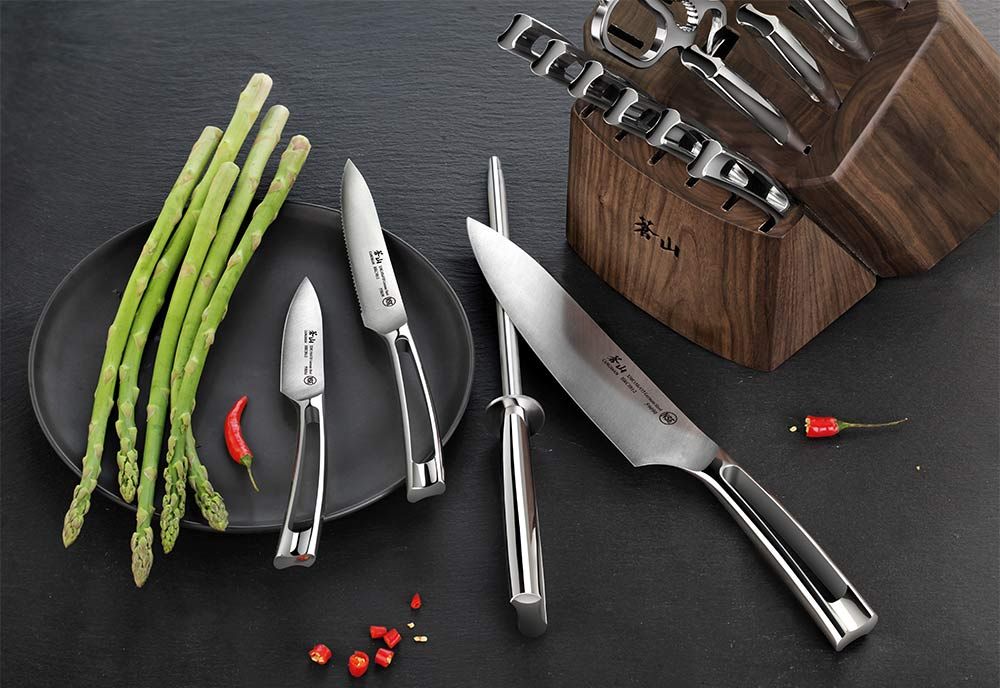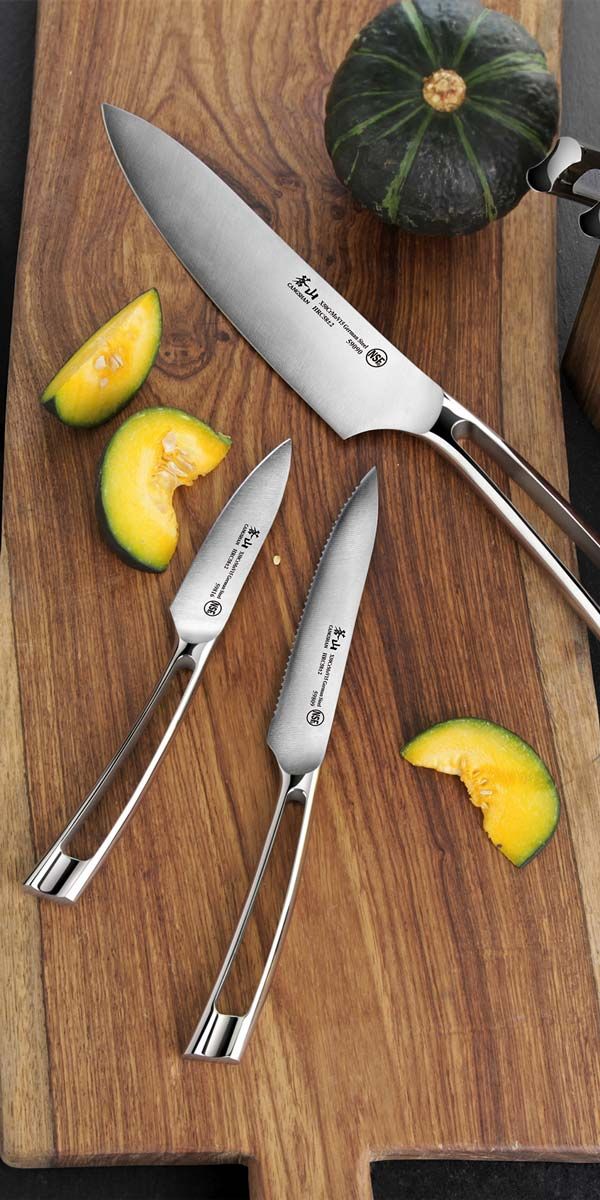 Features:
Patented design
Red Dot Design Award Winner 2016 / Gourmet Gold 2016 / A' Platinum Design Award 2017
Forged and handcrafted full tang knives
High Alloy German Steel with a 58 +/- 2 on the Rockwell Hardness Scale
Exceptionally sharp Asian style 16 degree edge
Precisely heat treated blades for long lasting durability and edge retention
Bolster free to accommodate a firm, natural pinch grip
Well balanced and comfortable handle
Serrated steak knives
Shears come apart for easy cleaning
All knives are National Sanitation Foundation [NSF] Certified
Made in China
17-piece Set Includes:
1 - Forged 8" Chef's Knife
1 - Forged 8" Bread Knife
1 - Forged 7" Santoku
1 - Forged 6" Boning Knife
1 - Forged 5" Tomato/Cheese Knife
1 - Forged 5" Serrated Utility Knife
1 - Forged 3.5" Paring Knife
1 - Forged 2.75" Peeling Knife
6 - Forged 5" Serrated Steak Knives
1 - 8" Honing Steel
1 - Forged 9" All-Metal Shears
1 - Solid Walnut Wood Knife Block
For product related questions and feedback please contact Cangshan Cutlery Company at 855.597.5656 or email us at smile@cangshancutlery.com and we will be happy to assist you.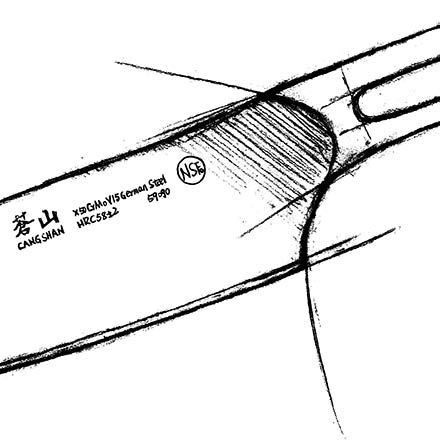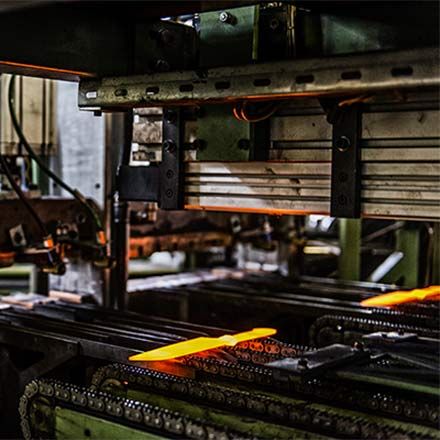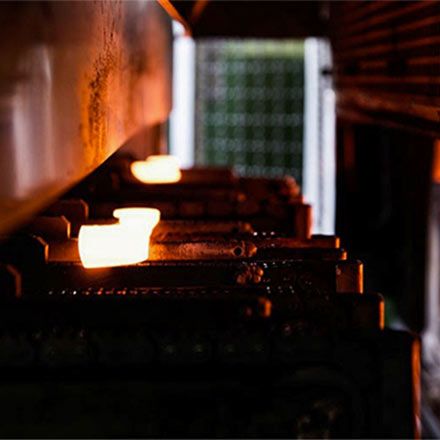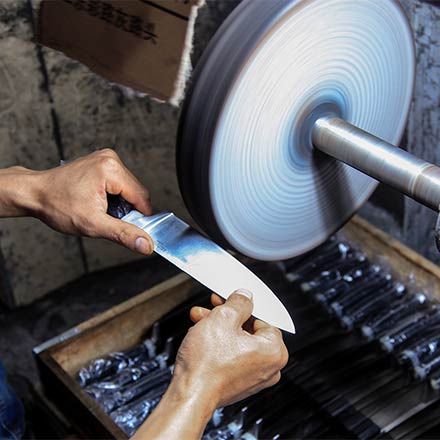 Good Design
Aesthetics must push into function. A chef wants a connection with the tools they use to create. Some prefer a light nimble knife while others work better with a heavy, large handled knife. Professional creatives also want their tools to aesthetically connect with their story. This is the reason we have 18 Patented and Patent Pending handle designs and have won 22 Design Awards.
Premier Steel
A great knife comes from excellent materials. We use high-alloy German steel which offers an excellent mix of hardness and durability with the ability to reach a hardness rating of 58 ±2 on the Rockwell Hardness Rating Scale. These steels take an exceptionally sharp edge and boasts superior edge retention compared to competing knives currently in the marketplace. That means a sharp knife with optimal edge retention.
Heat Treatment
Every blade goes through an ultra-precise 6 stage heat treatment which brings out the best qualities of each steel. Heat treatment is the key to a great knife. We have perfected the specific heat treatment process that would ensure our knives are both hard enough to take a sharp 16 degree edge, yet durable enough to keep that sharp edge during heavy kitchen use.
Handcrafted
At the end of the day a knife needs to perform. All Cangshan knife proudly can do just that. The quality and craftsmanship of the knives ensure they precisely and effectively perform their cutting functions giving the user a responsive and refined tactile experience that enhances and augments their skills and process. Every knife from Cangshan is handcrafted and hand sharpened, these are real, passionate artisans creating beautiful, functional tools.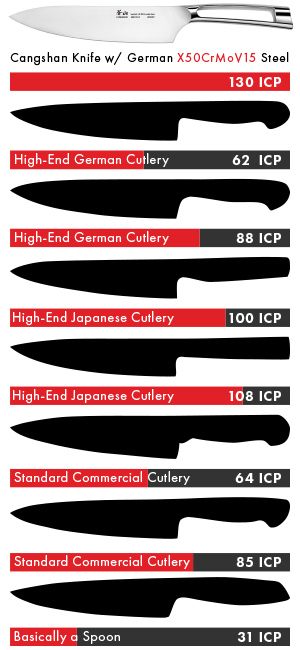 What is SHARP?
There are a number of factors that go into the sharpness of a knife edge. In simplified terms the more acute the angle of the edge, the sharper the knife. So a 16 degree angle will be sharper than a 24 degree angle. Harder steels are better able to take on these smaller, keener angles. However harder steels tend to suffer from brittleness, meaning they take more care to maintain the edge.
German X50CrMov15 Steel gives an exceptional blend of hardness and durability to the edge, allowing for a precise and sharp edge without any brittleness. The steel is also highly stain resistant.
How SHARP is it?
Initial Cutting Performance [ICP] is a measurement that reflects how sharp the knife's edge is after it has been sharpened. Any score over 110 is considered excellent while a measurement under 30 is rated as very poor.
How long will it stay SHARP?
Total Card Cut [TCC] is a measurement that reflects how long a knife will stay sharp and resist wear through use. Scores over 550 are considered excellent while scores under 100 are rated as very poor.
*All results from an independent knife testing lab.