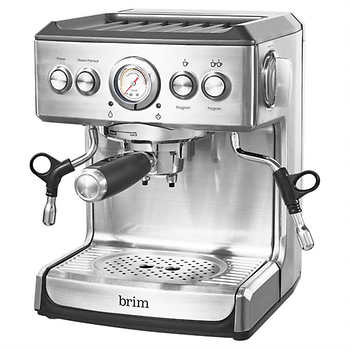 Brim 19 Bar Espresso Machine
Baristas in Italy have mastered the art of the espresso and have been doing it right for years. Now, with the Brim 19 Bar Espresso Maker, all coffee connoisseurs can make a bold cup of espresso, cappuccino, or latte without taking a trip overseas. Its durable, industrial style construction and impeccable design set the Brim 19 Bar Espresso Maker apart and bring an unparalleled level of authenticity to your kitchen.
The thermal coil system delivers consistently hot espresso with controlled pressure from pre-infusion to extraction and a rich crema, shot after shot. For those who take their coffee with milk, complete the process with the commercial style, 360 degree swivel action steam wand to perfectly texturize your microfoam at café quality. The drip tray has an indicator to let you know when it needs emptying and the 42oz water tank, and drip tray are both removable for easy cleaning so you can extract, rinse, and repeat.
Features and Benefits:
Controlled Pressure: Features a stable high pressure Italian pump with gauge indicator and low pressure pre-infusion for balanced extraction.
Thermal Coil: Thermocoil system provides consistently hot espresso, shot after shot.
Texturized Microfoam: Equipped with a commercial style steam wand with 360˚ swivel action for perfectly textured microfoam.
Dry Steam: 'Dry steam' allows for rich crema made easy for a flawless cup of coffee every time.
Hot Water Dispenser: Includes an instant hot water dispenser wand with precision aim for Americanos and other hot beverages.
Keep It Warm: Heated diecast top plate to keep your cups warm.
Remove Before Cleaning: Drip tray, steam wand tip, and large 71oz water tank are all removable for easy cleaning.
Robust Design: Durable, industrial-style construction with die cast warming top plate.
Powerful: Features a 1250 Watt system with automatic selections.


Accessories:
Universal portafilter holder
1 or 2 cup filters in both pressurized and non-pressurized options (4 total)
12oz stainless steel milk frothing pitcher
Filter cleaning tool
Includes a heavy duty metal tamper
Measuring scoop