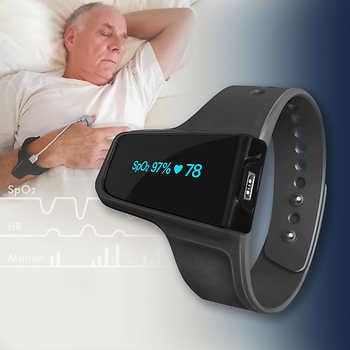 BodiMetrics O2 Vibe Sleep and Fitness Monitor
Product details have been supplied by the Manufacturer, and are hosted by a third party.
Product Details

Day or night, in the gym or while you sleep, the wearable watch style BodiMetrics™ O2 Vibe™ Sleep & Fitness Monitor helps you keep track of oxygen (SpO2) levels, pulse rate and motion, during sleep and counts steps during exercise. If the O2 Vibe's built-in sensor detects a drop in oxygen levels while you sleep, an adjustable vibration function stimulates you to change positions. You can record up to 10 hours during sleep and 5 hours during activity, and download the data to your Android or iOS device.

Built-in sensor to track and analyze oxygen levels and sleep quality
Vibrates when it detects a drop of oxygen saturation in the blood
Two modes: sleep mode monitors SpO2 levels, heart rate and motion during sleep; fitness mode monitors SpO2 levels, heart rate and counts steps during light exercise.
Customizable settings, alerts and vibration level.
Pairs with device via available free app and Bluetooth
Includes one soft thumb ring sensor and USB charging cable
Rechargeable via USB and included cable
So light you'll hardly notice it – just 1.6 oz.
The BodiMetrics O2 Vibe fits on your wrist and has a thumb sensor to track heart rate and motion, and detect drops in oxygen levels. In sleep mode, the monitor vibrates when your oxygen level drops to stimulate you to change position, which can be helpful for people who snore. The quiet, adjustable vibration setting gently wakes you when your SpO2 falls below the threshold you set, without disturbing your partner.

In the morning, you can see when and how often your blood oxygen levels dropped. With our FREE mobile app, you can preserve data and trends, see full color graphs and reports on your nightly oxygen levels, heart rate, and motion, including averages, lowest levels, duration, and overall score. You can share these with your health care provider via a secure cloud service.


See the link below to download the complete Quick Start Guide
What is SpO2?
SpO2 stand for peripheral capillary oxygen saturation which is an estimate of the amount of oxygen in the blood. For a regular healthy person , the normal blood oxygen saturation level (SpO2) should be above 93%.

What makes SpO2 Drop?
For snorers, sleep apnea makes an oxygen shortage, so SpO2 drops frequently. Some other health problems such as lung disease can also contribute to a lower SpO2. Usually, if the SpO2 level goes down over 4% from baseline, it is regarded as a drop. Frequent drops should have your attention.

What does the O2 Score mean on the O2 Vibe?
O2 score is a measure of oxygen shortage during whole sleep. It combines frequency, duration and depth of oxygen drops. A higher score means oxygen is richer; Lower score means oxygen is lower.
The BodiMetrics O2 Vibe can help you get a better night's rest, and that means more energy and focus during the day. But the O2 Vibe is also a mini personal trainer. In fitness mode, it monitors heart rate, blood oxygen, and tracks your steps. It can easily be set to alert you when you're short of your personal activity goal. Especially as we age, it's important to keep moving!

The unit's light weight and comfortable thumb sensor won't interfere with your active lifestyle and light exercise routines.
While the technology behind the BodiMetrics O2 Vibe is quite complex, using the device is simple.

Check out our video to see how easy it is to put the O2 Vibe to work helping improve the health of your sleep and the benefits of your fitness regimen.


See the link below to download the complete Quick Start Guide
Weight 0.1 lbs (45 g)

Dimensions 3.5 x 2 x 0.5 inches (89 x 51 x 13 mm)

Connectivity Bluetooth 4.0 BLE

Compatibility Free app available for Android 4.4+ or Apple iOS 9.0+ iPhone 4s+, iPad Air, iPad Mini, iPad 3 Gen or later, and Android devices with Bluetooth 4.0 BLE

Device Compatibility List HTC One (M7), HTC One (M8), Nexus 5 and later, Nexus 7 Tablet (2013 Version), Nexus 9 Tablet, Motorola Moto X, Samsung Galaxy Note 3 or later, Samsung S4 or later, Sony Ericsson Xperia Z2, Sony Ericsson Xperia ZL, Samsung S5 or later, Samsung Galaxy Note 4 or later, Motorola Moto X, Huawei Honor 8, 5X, Huawei P6 or later, Huawei Mate8 or later

Restrictions Not meant for users with a pacemaker (or other internal medical devices) or who are pregnant

Power Source Internal rechargeable lithium polymer battery

Recharge Time Less than 2 hours to 90%

Includes:

Monitor on adjustable wrist strap

Thumb sensor and cable

Micro-USB cable

Quick Start Guide

See the link below to download the complete Specification Sheet
---