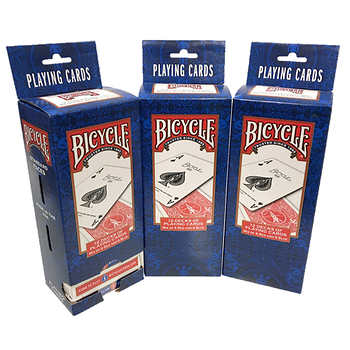 Bicycle Standard Playing Cards, 3-pack (36 Decks)
Item may be available in your local warehouse for a lower, non-delivered price.
Do you remember learning your first card game? How about winning at an old-fashioned game of solitaire? Or that holiday tradition of Gin Rummy after dinner? Since 1885, Bicycle playing cards have been a part of household gaming. Every Bicycle® playing card deck is specially crafted so that you can trust Bicycle® cards performance hand after hand. Bicycle playing cards have been bringing people together for generations. With a purchase of this bundle you will receive 3 cartons and each one holds 12 decks of Standard Playing Cards for a total of 36 decks.
Bicycle Rider Back Playing Cards
Standard Index, Poker Size
Perfect for game or poker night
Classic Air-Cushion Finish for ease of shuffling and optimum performance
Made in the USA