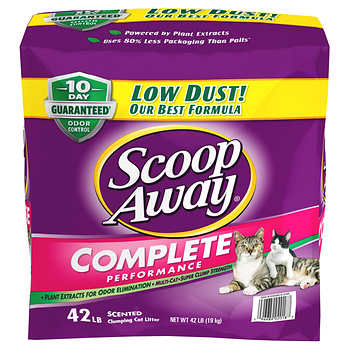 Scoop Away Complete Performance, Scented Cat Litter, 42 Pounds
Scoop Away Complete Performance Scoopable Cat Litter destroys even the worst cat litter box odors, leaving behind a fresh clean scent. It's specially formulated to handle odors in even the busiest litter boxes and contains plant extracts for natural odor elimination for 10 days guaranteed. The tight-clumping formula leaves virtually no stinky crumbles after scooping. With the low dust formula and 80% less packaging than pails, cleaning your cats litter box is now fast and easy. To refresh and maintain the litter box, scoop daily and top off with fresh cat litter. Scoop Away Complete Performance Scented Cat Litter makes litter box maintenance easy.
42 pound carton of Scoop Away Complete Performance Scented cat litter, Fresh Clean scent
Multi-cat strength
Plant extracts for natural odor elimination
Maximum strength formula handles the most extreme odors
10 day odor control guaranteed
Tight clumping cat litter leaves behind virtually no stinky crumbles
Low dust formula and 80% packaging material for easy litter box maintenance
Never dump out the litter box, just scoop and top off cat litter as needed


Usage Directions: Fill litter box with 3 to 4 inches of litter. Scoop out clumps and solids daily and dispose of them in the trash. Add more litter as needed
Ingredients: NA
Caution-Warnings-Allergy Statements: As a reminder, especially to pregnant women and immunosuppressed persons, cat feces can sometimes transmit a disease called toxoplasmosis. Therefore, always remember to wash hands thoroughly after handling used cat litter. For further information, consult your doctor. Unused cat litter poses no toxoplasmosis threat. Caution: Do not use this product as a traction aid because product becomes slippery and slick when wet.