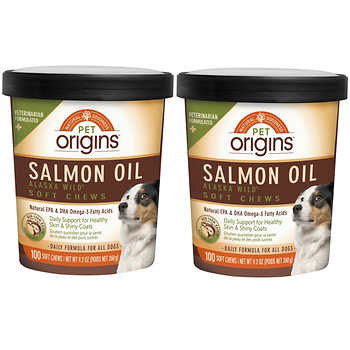 Pet Origins Salmon Oil Soft Chews for Dogs 100-count, 2-pack
Product Details
Pet Origins Salmon Oil Soft Chews provides beneficial levels of natural EPA & DHA Omega-3 fatty acids that help support healthy skin and coat condition for our dogs. The salmon oil in the chews is only made from wild, non-farmed Alaska salmon that is preserved naturally to maintain its natural goodness. These soft chews have a great savory flavor that dog's love while helping to maintain the overall health of your dog's skin and coat.
Omega-3 Fatty Acids: 500 mg
DHA (Docosahexaenoic Acid): 50 mg
EPA (Eicosapentaenoic Acid): 40 mg
Proudly carries the NASC Seal of quality
Veterinarian Formulated


Specifications:
Brand: Pet Origins
Container Size: 2 x 100ct.
Form: Soft Chew
Packages Per Case: 2


Warnings: For animal use only. Keep out of reach of children and animals. In case of accidental overdose, contact a health professional immediately.