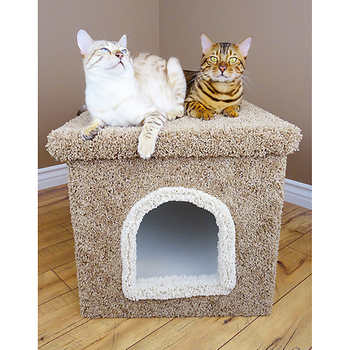 New Cat Condos Premier Large Litter Box Enclosure
Our Premier Litter Box Enclosure is made of solid wood construction, has plush carpeting on the outside, and washable lining on the inside. This great piece of cat furniture is fitted with a removable top for easy cleaning and changing of dirty litter. It is also designed with a large opening in the front to give your cat plenty of spacious access. Our Litter Box Enclosure gives privacy and helps to eliminate unwanted odors, and can be cleaned easily with a damp towel.
Features:
Crafted from solid wood and household grade carpet
Hand built by our skilled craftsmen, using high quality materials
Carpet color shades and textures may vary
Fully assembled and is ready to use right from the box
Dimensions: 20" W x 20" H x 32" D
Handcrafted in the U.S.A.