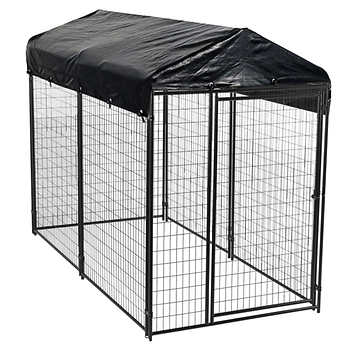 Lucky Dog Black Modular Welded Wire Kennel with Cover, 10' L x 5' W x 6'H
Lucky Dog Professional Modular Kennels have pre-assembled panels making set-up quick and easy for consumers. The modular design provides extra versatility for customization. Provide your pet and companion with plenty of exercise space in a welded wire modular kennel system. Simply stand panels upright in desired configuration and bolt together for support. 2" x 4" (mesh size) 8-gauge welded wire is attached directly to the 100% commercial grade steel frame with a drill and weld method; there are no bands, ties, or bolts required for the mesh. Square corner design and dog safe lockable latch further safeguards your pet from injury. 1" legs on each panel allow kennel installations to be easily cleaned. Two clamps w/ nuts and bolts per panel are supplied for connecting panels together. Exposed tubing on top of kennel are equipped with pipe plugs. Built in hinge system makes gates and animals secure. 2 x 4 welded wire modular kennel panels are available 4' and 6' heights, both 5' wide only. Customization is not available at this time. Panels ship by common carrier (large truck). Product carries a one year warranty against manufacturer's defects. Lucky Dog line of modular kennel panels and gates delivers the highest quality performance and versatility of any kennel panel program on the market. This kennel has a commercial grade steel frame, welded wire mesh and a round tube design.
Features:
Color: Black
Intended Use: Perfect for Medium to Large Dogs and other Animals
Design: Modular dog kennel is designed with your dog's safety and comfort in mind
Construction: Seamlessly welded panels with no sharp edges or fixtures, making for strong and durable kennel that is simple to assemble
Modular System: Allows you to configure multiple kennels in whatever design you choose, allowing you to utilize all available space
Easy Setup: Pre-assembled modular panels connect quickly & easily, using hand tightening clamps, NO TOOLS REQUIRED! Ground anchoring recommended
Easy to Clean: 1.5" raised legs make enclosure easy to sweep/hose out to prevent buildup of dirt & bacteria, keeps your pet healthy and happy
Safety: Keep your pet safe in this welded wire steel pen as they enjoy the freedom of being outdoors without a leash
Cover Included
Indoor/Outdoor use
Dimensions: 6' H x 10' L x 5' W
Weight: 131 lbs.